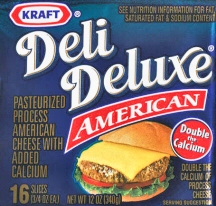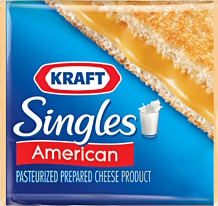 DELUXE AMERICAN CHEESE
There is a big difference between real American cheese (the photo on the left) and the cheese food that comes individually wrapped like in the "Singles" photo on the right. Real American cheese is a processed cheese, as is cheese food, but cheese food can contain ingredients other than cheese. It is also higher in carbs than American cheese. Here are some descriptions that I found on the USDA website that explain the differences:

Pasteurized process cheese is a blend of fresh and aged natural cheeses that have been shredded, mixed and heated (pasteurized), after which no further ripening occurs. It melts easily when reheated. The blend may consist of one or more varieties of natural cheese and may contain pimentos, fruits, vegetables, or meats. Smoked cheese or smoke flavor may also be added.

Cheese food also contains ingredients other than cheese and therefore is labeled as "pasteurized process cheese food." Cheese spreads have a different composition from cheese foods and are labeled as "pasteurized process cheese spread." All the ingredients used in the preparation of these products are listed on the respective labels along with the kinds or varieties of cheese used in the mixture. Also, the milkfat and moisture content may be shown.

UPDATE: What was formerly called "pasteurized process cheese food" is now called "American pasteurized prepared cheese product". Also, the Kraft real American cheese is now called Deli Deluxe American.

UPDATE 3/11/11: I noticed recently that Kroger and Kraft have changed the formula for their Deluxe American Cheese slices. Lately when I use it to make Crispy Cheese Crackers, they don't turn out the same as they used to. For one thing, the cheese doesn't always puff up in the microwave like it used to. For another, they often came out very flat and thin. They also don't get as crisp as they used to without getting them quite brown. My suspicion is that they're somehow bulking the cheese up with water.

So, I compared the nutritional counts that I had in MasterCook for Kroger's Deluxe American cheese with the information on the current label and the numbers are very different. I'm sure that it's a case of them adding water because there are still 24 slices per pound and each slice still weighs 19 grams even though there are now fewer calories, fat grams and protein grams. The carb count stayed the same. Here's a comparison of the old counts vs. the new ones for one slice of cheese:

OLD COUNT: 105 Calories; 9g Fat; 6g Protein; .5g Carbohydrate; 0g Dietary Fiber
NEW COUNT: 70 Calories; 6g Fat; 4g Protein; .5g Carbohydrate; 0g Dietary Fiber

As you can see, the calories, fat and protein dropped significantly and the carbs stayed the same. That means that something has to be replacing those nutrients and it has to be something that doesn't have calories, fat, protein or carbs and that would be water. What really stinks about this new formula they're using is that you're actually getting 1/3 less actual cheese per slice than you used to. When I compared the old and new numbers is came out to exactly out to exactly 33% less actual "food" which is being replaced by water. Note: If you buy the smaller packages of American cheese with 16 slices vs. 24 slices, the slices are slightly larger than what you get in the 16-ounce package. They weigh 21 grams vs. 19 grams.

Kraft Deli Deluxe American Cheese Ingredients:
American Cheese (Milk, Cheese Culture, Salt, Enzymes), Water, Milkfat, Sodium Citrate, Calcium Phosphate, Salt, Sodium Phosphate, Sorbic Acid As A Preservative, Oleoresin Paprika (Color), Annatto (Color) With Starch Added For Slice Separation

Kroger Deluxe American Cheese Ingredients:
American Cheese (pasteurized milk, cheese culture, salt, enzymes), water, cream, sodium citrate, sodium phosphate, salt, sorbic acid (preservative), annatto and B-APO-8-carotenal (for color)

1 ounce American cheese = trace Carbohydrate; 0g Dietary Fiber; trace Net Carb
1 ounce process cheese food = 2g Carbohydrate; 0g Dietary Fiber; 2g Net Carbs
Recipe: Crispy Cheese Crackers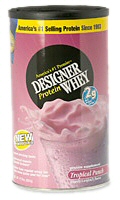 DESIGNER WHEY PROTEIN POWDER
I mainly use whey protein powder for making smoothies but it can be handy for other kinds of low carb recipes as well. I like the chocolate and vanilla flavors, but the strawberry leaves a funny aftertaste in my mouth. I've seen Designer brand in stores locally, but Netrition has a good price on it. If you'd like more information about whey protein powder, visit the Designer Whey website. The amount of carbs per serving varies by flavor.
1 scoop (about 1/3 cup) = 2-4g Carbohydrate; 0g Dietary Fiber; 2-4g Net Carbs
Recipe: Chocolate-Almond Protein Smoothie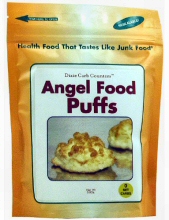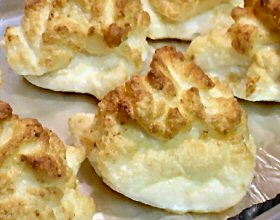 DIXIE DINER ANGEL FOOD PUFFS MIX
The mix makes soft meringue-type cookies. You add the mix to stiffly beaten egg whites then bake them. Although I baked mine as long as the instructions stated, mine were still not done on the inside by the time the outside had gotten very brown. Perhaps they would have baked more evenly at a lower temperature for a longer baking time. I took my friend Nancy's advice and baked mine on nonstick foil. A Silpat liner would probably work well too to keep them from sticking to the baking sheet. They tasted pretty good but were a tad salty. I think that the salty taste is due to a reaction between the Splenda and the egg whites because I've experienced the same thing before when making from-scratch meringues with Splenda (see the recipe links below). The Splenda also causes them to have a slightly yellowish color that you don't get with sugar meringues. You can order the mix from Netrition for $5.69. It comes with 6 packets of mix that each make 6 good-size puffs. Click the thumbnail photo above to see the whole batch of puffs that I made with this mix.
UPDATE: I've discovered a better way to make these. I thought it was odd that they'd say to sprinkle in a dry powder at the end which wouldn't be dissolved into the egg whites. Well, the mixture came out a lot nicer with it blended in right away. I beat the egg whites just until they were a bit foamy and then I gradually beat in the powder on low speed. After that I beat them on high speed until they were stiff.
I don't know if it's because I blended the mix in better, but they came out much more evenly browned this last time and I think they look much nicer. If you look at my photo from the first time, you can see that they look pretty white near the bottom with browning mostly on the peaks. This time they were pretty browned all over. They do still have a slight yellowish cast to them but that's from the Splenda. The texture was also much different than I remember them from the last time. They were almost bread-like this time. They were still a little salty but wasn't quite as noticeable since the dry mix was more evenly distributed in the batter. They were still a little underbaked in the center though even though I baked them about 8 minutes longer than the directions said. At least they weren't almost raw like the last time.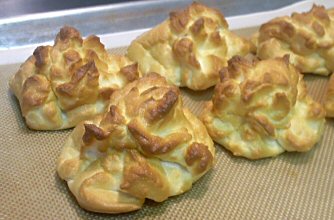 Ingredients: Cereal fiber, corn starch, low glycemic monosaccharide cream of tartar, sea salt, bicarbonate of soda, sucralose (splenda) vanilla powder
Per Puff = 2g Carbohydrate; 2g Dietary Fiber; 0g Net Carbs
Recipes: Lisa's Coconut Meringue Cookies - Meringue Surprises - Angel Food Souffles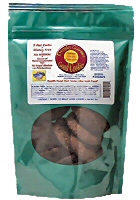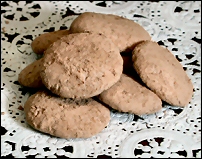 DIXIE DINER CHOCOLATE SUGAR NOT COOKIES
My friend, Nancy, sent me some of these in my Christmas package and they're really quite good. They remind me of chocolate crinkles with a slightly more crumbly texture. You can find them at Netrition for $6.29.
Ingredients: Almond meal, corn starch, whey protein concentrate, cocoa powder, low glycemic monosaccharides, egg whites, soluble vegetable fiber, fractionated palm kernel oil, water, heavy cream, baking powder (calcium acid phosphate, bicarbonate of soda), maltodextrin, milk protein concentrate, soy lecithin, dehulled soybeans, calcium sulfate, low glycemic fruit concentrate, natural flavor, sodium caseinate, sea salt, carrageenan
Per 3 cookies = 5g Carbohydrate; 3g Dietary Fiber; 2g Net Carbs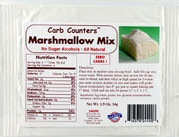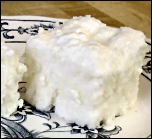 DIXIE DINER CARB COUNTERS MARSHMALLOW MIX
These are very similar to the Handmade Marshmallows that I make but all you have to do is add water to the mix and beat it until stiff and fluffy. I didn't care for the taste of them at all. I think they have a slightly odd salty, chemical taste that I don't get with the homemade version. If you'd like to make your own, see the recipe link below or you can order the mix from Netrition for $3.89.
UPDATE 11/2/11: This product has been discontinued.
Ingredients: Egg white, gelatin, low glycemic monosaccharide, sucralose, vanilla powder
Per Serving: 0 Carbohydrates
Recipe: Handmade Marshmallows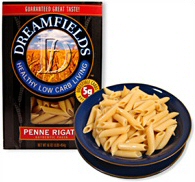 DREAMFIELDS PASTA
I can't explain the "magic" behind Dreamfields pasta and, frankly, I'm not totally convinced that it's really low carb. Some people say that they can eat it and still lose weight and others say it stalls them. I don't miss eating pasta at all so I've only tried it a couple of times. It tastes just like regular pasta but it's a little more gummy. My local Kroger store carries most of the pasta shapes including the new lasagna. You can order Dreamfields pasta from Netrition if you can't find it locally. Read more about Dreamfields here.
Ingredients: Enriched semolina, [semolina, iron (ferrous sulfate), and B vitamins (niacin, thiamin mononitrate, riboflavin, folic acid)], fiber blend (inulin, guar gum, xanthan gum, carrageenan, pectin), sorbitol, wheat gluten, potassium chloride.
Dreamfields has changed the formula for their pasta. Here is the current ingredient list:
Ingredients: Enriched semolina, [semolina, iron (ferrous sulfate), and B vitamins (niacin, thiamin mononitrate, riboflavin, folic acid)], inulin(vegetable fiber), wheat gluten(plant protein), xanthan gum(food fiber), pectin(fruit fiber), potassium chloride.
2 ounces uncooked = 5 net carbs
2 ounces regular pasta = 39 net carbs
Recipe: Garden Tuna-Macaroni Salad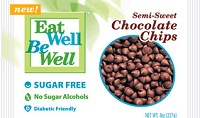 EAT WELL BE WELL CHOCOLATE CHIPS
MiniCarb chocolate chips have been discontinued and the Carbsense company has changed its name to Eat Well Be Well. They recently came out with a new version of their chocolate chips. They've added more Polydextrose (fiber) to the new formula so the net carb count is lower than the old MiniCarb chocolate chips. I've heard that the new chips taste a little sweeter than the old ones, but more Polydextrose means that they'll cause me more gastric distress than the old ones so I doubt if I'll ever try them. Although the chocolate contains no sugar alcohols, Polydextrose can have the same affect as sugar alcohols if you're as sensitive to it as I am. Another intersting thing that I've heard about the new formula chips is that they are mini chocolate chips. At this time they are only available through Netrition. Also see MiniCarb Chocolate Chips.
UPDATE: Eat Well Be Well has gone out of business so this product is no longer available.
Ingredients: Chocolate liquor, polydextrose (soluble fiber), cocoa butter, cocoa powder, soy lecithin (an emulsifier), sodium bicarbonate, vanilla, sweeteners (acesulfame potassium, sucralose).
8 ounce bag = 121g Carbohydrate; 106g Fiber; 15g Net Carbs
Recipe: Pots de Crème au Chocolat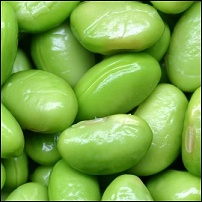 EDAMAME
Edamame (ed-duh-MAH-may) are soy beans. I saw them in the freezer department at Kroger and decided to give them a try. I bought the kind that are already shelled. They remind me little of peas in flavor and texture but they have less than half the carbs of peas. I haven't tried them in a recipe yet, but I think they might be good in my Tuna "Rice" Casserole or in a vegetable soup. They are easy to cook. You can boil them or microwave them. I microwaved mine and they were done in minutes. I wouldn't eat these often since they are a soy product, but the carbs are low enough to enjoy them occasionally.
Ingredients: soy beans
1/2 cup = 6g Carbohydrate; 3g Dietary Fiber; 3g net carbs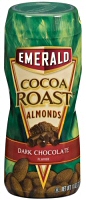 EMERALD COCOA ROAST ALMONDS
After Jimmy Moore mentioned these on his YouTube video, I decided to hunt them down. I found some at Randall's here in the Houston area. They were expensive at $6.99 for an 11 ounce canister but I decided to splurge and give them a try. They're pretty good and somewhat addictive. They don't taste like dark chocolate as it says on the label though. They taste like they're coated with sweetened cocoa and remind me of CoCo Wheats or Cocoa Puffs cereal. I don't like that they put food starch on them but it doesn't seem to impact the carb count much compared to plain roasted almonds.
Ingredients: Dry roasted almonds, modified food starch (potato), natural & artificial flavors, cocoa powder, salt, acesulfame potassium, sucralose.
1 ounce = 6g Carbohydrate; 3g Dietary Fiber; 3g Net Carb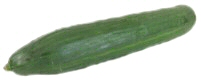 ENGLISH CUCUMBER
Sometimes called seedless cucumbers. They are generally much longer and thinner than regular cucumbers and their skin isn't quite as tough. Although I like them in certain dishes, I don't think they have the refreshing, summery flavor of American cucumbers.

1 cucumber (about 11 ounces) = 8g Carbohydrate; 2g Dietary Fiber; 6g Net Carbs
Recipe: Chutatip's Cucumber Salad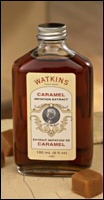 EXTRACTS & FLAVORINGS
There are so many wonderful flavorings available to jazz up your low carb desserts. Just be sure to read the labels to check for added sugar. Some of my favorites are orange, lemon, peppermint and maple. The only way to know if you'll like a particular brand and flavor is to try them and they're not cheap. I've tried so many that I decided to put together a chart so you can see what I thought of each one. You may want to check out Spice Barn for extracts. I got a nice coconut extract from them.

1 teaspoon = .5-1g Carbohydrate; 0g Dietary Fiber; .5-1g Net Carb
Recipe: Poppy Seed Dressing
---
Back to the main product index | Page 1 | Page 2 | Page 3 | Page 4
---