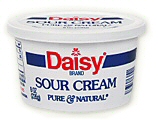 SOUR CREAM
When I buy sour cream, I always get the "natural" kind that isn't full of gums and additives. Daisy is a very good brand and Kroger makes their own natural kind as well. The ingredient list below is for Kroger's All Natural Sour Cream.

Ingredients (Kroger brand): cultured cream, nonfat milk, enzymes
Ingredients (Daisy brand): Grade A cultured cream

1/4 cup = 2g Carbohydrate; 0g Dietary Fiber; 2g Net Carbs
Recipe: Nancy's French Onion Dip


SOY SAUCE
I didn't know much about soy sauce until I did a bit of research. I'd been unsuccessfully searching for a soy sauce that didn't contain sugar or wheat. There is an interesting article at Wikipedia. It turns out that there are Japanese, Chinese, Korean and other types of soy sauces. The kind most commonly found in the supermarket is Japanese soy sauce and is made from wheat. A similar sauce, called tamari, is also made from wheat but doesn't contain quite as much as soy sauce. I haven't seen a tamari without added sugar though so I've avoided buying it. In fact, the only soy sauce that I've found without added sugar is Kikkoman brand so that's what I use. Chinese soy sauce is made primarily from soy with very little wheat and Korean soy sauce has no wheat. I plan to look for some Chinese and Korean soy sauces at the Asian market and see how they compare to the Japanese kind. Low carbers should be cautious of the dark-type soy sauces as they use molasses to make them dark. Another interesting thing about soy sauce is that it contains naturally occurring monosodium glutamate (MSG). The ingredients below are for Kikkoman brand soy sauce.
Ingredients: water, wheat, soybeans, salt, sodium benzoate
1 tablespoon = 2g Carbohydrate; trace Dietary Fiber; 2g Net Carbs
Recipe: Bulkogi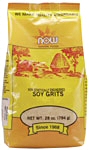 SOY GRITS
The only thing I've used them in so far is in a mock cornbread which is excellent. While the hazelnut flour provides the "corn" flavor, the soy grits provide the right gritty texture. I was amazed at how much it tasted like my old high carb cornbread recipe. I found mine at Whole Foods Market in their bulk foods department, but you can also order some from Netrition. It's a bit pricier at Netrition. I paid $1.69 pound at Whole Foods vs. $2.28 pound at Netrition.
UPDATE 5/3/11: This product is no longer available at Netrition.
1/4 cup = 14g Carbohydrate; 7g Dietary Fiber; 7g Net Carbs
Recipe: Mock Cornbread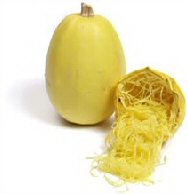 SPAGHETTI SQUASH
Spaghetti squash is a winter squash and therefore has more carbs than summer squashes, such as zucchini. The unique thing about it is that, once it's cooked, it forms long strands that can be used as a sort of mock pasta. Of course it doesn't taste anything like pasta, but it makes a good base for all kinds of pasta sauces. Unlike real pasta, it actually has some nutritional value. For more information, visit the Cook's Thesaurus
1/2 cup cooked = 7g Carbohydrate; 2g Dietary Fiber; 5g Net Carbs
Recipe: How to cook spaghetti squash

SPICES
If you'd like to order some high quality spices, check out Spice Barn and Penzeys. I bought many of the more unusual spices, dried herbs and seasonings that I use in my recipes are from Penzeys. If there is a Penzeys store in your area, by all means check it out. They have samples of EVERY kind of spice for you to test. It's an amazing place!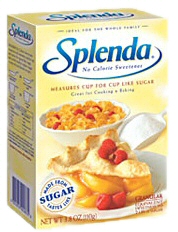 SPLENDA GRANULAR
I would only use granular Splenda when a recipe calls for such a small amount of sweetener that it would take less than a drop of liquid Splenda. That's because the granular kind, that's sold in supermarkets, has maltodextrin added to give it bulk. Maltodextrin is a form of sugar and is the reason that Splenda has so many carbs. Unfortunately, the manufacturers of Splenda have yet to come out with a zero carb liquid version. Until they do, there are only a couple of sources of the liquid kind as you'll read below. If granular Splenda was the only sweetener available, I'd probably just give up low carb desserts to avoid all those carbs. If you can't get the liquid kind, you can do a lot with sugar free syrups, such as Da Vinci and Torani. I've got a conversion chart to help you measure the various forms of Splenda here.
1 cup = 24 carbs and 96 calories
Recipe: Bavarian Apple Cheesecake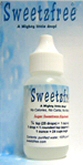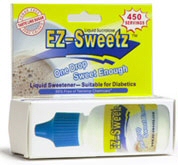 SPLENDA LIQUID
The best source that I know of for liquid Splenda is Sweetzfree. I've used it and like it. Sweetzfree is now available all the time. No more waiting for ordering "windows". The price seems pretty high, but a little goes a very long way. If you need help converting your recipes from granular Splenda to Sweetzfree, I have a conversion chart on my site.
I needed to calculate how much Sweetzfree costs per drop once so I thought I'd post it here in case anyone is wondering what it costs to use it. This is based on the 2 ounce bottle at $34.00 per bottle:
1 drop Sweetzfree = $.0275
1 cup's worth of sweetness - $.68 (25 drops)
There is also a product called Fiberfit that's not as concentrated as the Sweetzfree that I use. I've never tried Fiberfit, but here's the link. Or, visit the Fiberfit website here.
I just heard about a new brand of liquid Splenda called Pure Liquid Sweetness. It's the same as Sweetzfree as far as the concentraton as well as the price. I have not tried this product so I can't give my opinion.
UPDATE: I've recently heard that people are not receiving their orders for this product and then not getting full credit back from PayPal. I've removed them from my Links page for this reason and not from personal experience.
UPDATE 5/28/11: I've removed the link to this product. The site is gone and has been replaced by a malicious advertisement that wouldn't allow the browser to exit the page.
Netrition now sells liquid Splenda called EZ-Sweetz. A 1/2 ounce bottle sells for $6.99 and contains the equivalent of almost 6 pounds of sugar. Netrition also sells a 2 ounce bottle that is only half the concentration of the 1/2 ounce bottle and costs $13.99. Neither the bottle nor the box it comes in give any indication of how much to use per serving but there is a conversion chart on the Netrition site. Or, you can use my sweetener chart which I linked to above.
UPDATE 5/28/11: I just bought a 1/2-ounce bottle of EZ-Sweetz to try. So, I did an experiment to see how EZ-Sweetz compares with Sweetzfree and granular Splenda per serving (2 teaspoons worth of sweetness). I mixed each of them with 6 tablespoons of cold water and 1/8 teaspoon of True Lime. In one sample, I used 2 teaspoons of granular Splenda, in the second and third samples I used 1 drop each of Sweetzfree and EZ-Sweetz. Neither the Sweetzfree or the EZ-Sweetz were as sweet as the granular Splenda sample. I'd say they were approximately half as sweet or just slightly sweeter than that. So, I added a second drop of each liquid sweetener to the samples. That made both of the samples with liquid sweetener sweeter than the sample with granular. The sample with EZ-Sweetz wasn't quite as sweet as the sample with Sweetzfree but pretty close. I think that the concentration of the two products is close enough that you could use the same conversion chart for both. I would start with the amount called for in a recipe in place of granular Splenda (using the conversion chart) but you might need to add 1/4 again as much depending on how it tastes to you. I can't say how any of them compares with the sweetness of real sugar because I didn't want to try that test.
UPDATE 6/24/12: I've had a couple of months to try Tasty-Free and I'm not all that pleased with it. It tastes fine but the concentration is too different from what I'm used to with Sweetzfree or EZ-Sweetz. It's a lot more concentrated, maybe twice as sweet, as Sweetzfree even though their site says it should be the same. I'm constantly having to guess at how much I should use. I've also had some trouble with the bottle nozzle crusting and I've never had that happen with Sweetzfree. I keep finding myself reaching for my bottle of Sweetzfree if I'm making something where a precise amount is required. If you're willing to experiment with the amount to use in your recipes, Tasty-Free comes in two sizes and shipping is included in the price. It is cheaper than Sweetzfree especially since it is much sweeter. A 1.25 ounce bottle is $18.00 and a 2.5 ounce bottle is $30.
UPDATE 7/18/12: I definitely don't recommend Tasty-Free. The bottle keeps crusting up so badly that I can't squeeze anything out. It's even crystalizing inside the bottle and not just the nozzle.
1 cup equivalent liquid Splenda = 0 Net Carbs
1 teaspoon Fiberfit = 1g Carbohydrate; 1g Dietary Fiber; 0g Net Carbs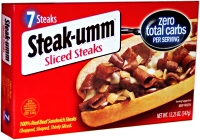 STEAK-UMMS
Steak-Umms, and products like them, are wafer-thin slices of 100% beef. They fry up in no time for a quick meal. For more information, visit the Steak-Umm site.
1 serving = 0 carbs
Recipe: Philly Cheesesteak Melt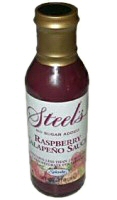 STEELE'S SAUCES
I ordered two of Steele's sauces to try from Netrition, the Rocky Mountain Sweet & Sour Sauce and the Raspberry Jalapeņo Sauce. I don't care for the sweet and sour sauce much. The only flavor is very strong ginger and not much else. Also the consistency is a little thin. The flavor of the Raspberry Jalapeņo Sauce is ok, but I was hoping that it would taste more like the raspberry chipotle sauce that I love. It tastes more like raspberry flavored Worcestershire sauce. It would be fine as a dipping sauce, but I don't think it would work well in a stir-fry. The consistency is more like pureed raspberries than a sauce or glaze. I was hoping to use it in my Pork & Bell Pepper Stir-Fry with Raspberry Chipotle Sauce recipe, but I'm not sure if I'd like it in that.
Raspberry Jalapeņo Sauce
Ingredients: Raspberry puree, cider vinegar, jalapeņo peppers, salt, water, pectin, spices, natural flavoring, sucralose
1 Tablespoon = 1.9g Carbohydrate; .25g Dietary Fiber; 1.65g Net Carbs
Rocky Mountain Sweet & Sour Sauce
Ingredients: Cider vinegar, pineapple juice, Steel's sugar-free ketchup (tomato paste, water, onions, cider vinegar, kosher salt, cloves, cinnamon, mustard, celery, black pepper, cayenne pepper, sucralose), soy sauce, ginger, garlic, xanathan gum, sucralose
1 Tablespoon = 1g Carbohydrate; 0g Dietary Fiber; 1g Net Carbs
---
Back to the main product