9/14/11: I added a fruit carb count chart on the Odds & Ends page.
9/10/11: I revised the Raspberry Almond Crumb Cake recipe instructions slightly and also added a variation that uses a couple of LC-Foods products.
9/8/11: I had the opportunity to try a low carb chili product from a company called LC Homestyles. Here's the link to my review: LC Homestyles Chili
9/3/11: I added a photo of muffin slices with the low carb preserves on them.
9/2/11: I added a review of LC-Foods Low Carb Preserves.
8/30/11: QuestBars are now available at Netrition.
8/26/11: Added Butter Cookies
8/22/11: Last week I ordered blanched almond flour from Honeyville for the first time and the price was very good. They have a flat shipping rate of $4.49 and my order came to $34.48 for a 5-pound bag. That works out to just $6.89 pound. I compared the Honeyville almond flour with Bob's Red Mill and they seem identical as far as consistency.
8/18/11: I added an update to the Bananas Foster Crème Brûlée recipe.
8/11/11: Added Meaty Eggplant Lasagna
8/3/11: I added an update to the Low Carb Jello Poke Cake recipe.
8/1/11: Added Low Carb Jello Poke Cake. I also added a tip in my Tips & Tricks section about making your own coconut flour. You can find my review of LC-Foods Confectionery Powder here.
7/29/11: I added an update to my Smoky BBQ Sauce II recipe.
7/28/11: I added a review of the LC-Foods Cracker Mix.
7/26/11: I added a citrus juicer to my Gadgets page.
7/25/11: Added Pork Rind French Toast Cakes. I also split the Bread recipes category into subcategories to make things easier to find.
I added an update to the Boursin Tilapia and Shrimp recipe on 7/23/11.
7/22/11: Added Boursin Tilapia and Shrimp
7/20/11: A whole new category of products has just become available at LC Foods. Now you can get basic ingredients such as Dutch cocoa, vital wheat gluten, inulin fiber, xanthan gum, konjac glucomanan powder, erythritol, flax meal (coarse and finely ground), chia seed and meal and polydextrose fiber. Check out this page on their site: Ingredients For Low Carb Cooking . You can use the coupon code "LINDASUE" to get one free product of your choice with your order and that includes these new items. Just click the button in the ad at the top of this page to take advantage of this offer.
Added on 7/19/11: Eggplant Lasagna
7/17/11: I added two more product reviews from the LC Foods Company: Granola Mix and Low Carb Milk Mix. LC Foods is going to have a special offer for people who visit my site. I will be posting the ad at the top of this page very soon.
7/14/11: I added an update to the oven-baked Cheese Crisps.
7/9/11: I added instructions for making Cheese Crisps in the oven.
7/4/11: I recently received some low carb products to try from a new company called LC Foods. I'm eager to try them out but it will take me some time to get through them all. I will be posting my reviews of these products in my Low Carb Products & Ingredients section but I will also let you know here in my updates as I add more LC Foods product reviews. Today I added the first review of a chocolate milk mix.
I added an update to the Lemon Dream Cheesecake recipe on 7/3/11.
Added on 7/1/11: Lemon Dream Cheesecake and Lemon Curd.
Added on 6/12/11: Saucy Dijon Herb Chicken
6/2/11: I came up with a very easy and tasty snack today. I took two slices of Deluxe American cheese and made eight of the larger size Crispy Cheese Crackers. Then, I spread some Homemade Boursin Cheese Spread on four of the crackers and topped them with the remaining crackers. They were better than cream-filled Oreo cookies any day! I also added a link to Dr. Eenfeldt's Diet Doctor blog on my Links page.
I updated my Splenda Conversion Chart on 5/28/11. I've added EZ-Sweetz to the chart.
Added on 5/27/11: Coffee Creme Custard and Enchilada Chicken Paillard.
I updated the Red Enchilada Sauce recipe on 5/26/11. I also changed my star rating for the Mock Rice Pudding to 5 stars. It's become one of my favorite low carb desserts.
Added on 5/16/11: Bananas Foster Crème Brûlée
Added on 5/13/11: Low Carb Cheese Snacks
I added an update to Pooti's Focaccia Bread on 5/12/11.
Added on 5/11/11: Pooti's Focaccia Bread
I added mini silicone cupcake liners to the Gadgets page on 5/7/11. I also added some photos using them here: Coconut Chocolate Bar.
I added an update to my Low Carb Products section for Torani syrups on 5/3/11. You can get them at Netrition now. I also updated a few other items in this section that have either been discontinued or had a price change.
I added a new "toy" to my Gadgets page on 4/29/11.
Added on 4/27/11: Pork Skin Flour Minute Muffin
Added on 4/24/11: Glazed Microwave Poundcake
Added on 4/22/11: Bacon Cheeseburger Skillet, 30 Second Cocoa Cookie and Coconut Chocolate Bar
I added an update to the Coconut Macaroon Muffins recipe on 4/18/11. I added 2 tablespoons of water to the batter.
Added on 4/9/11: KFC Chicken Seasoning
I updated the ingredients and carb counts for Lindt chocolate bars on my products page on 4/2/11. Lindt has changed the formula.
I added an update to the Even Better "Heinz" Ketchup recipe on 3/16/11.
Added on 3/14/11: Lasagna with Ham "Pasta"
3/11/11: I added an update to my Low Carb Products section that you may find interesting. We've all noticed how food companies are putting less product in packages than they used to and charging the same price for them. What I discovered is along the same lines but not as immediately obvious. In this case, the package size didn't change and the food itself still weighs the same amount as it always has. What changed is that a large percentage of the actual food in the product has been replaced with water. Quite a bit of water as you'll see: Deluxe American Cheese
Added on 3/9/11: Italian Ricotta Cake
3/3/11: It's been a while since I posted an update about Jerry. When Jerry went to see his transplant doctor back at the beginning of January, he mentioned that his anti-rejection drug (Prograf) was starting to affect his kidneys. They wanted him to see a urologist and possibly switch him to a different drug that isn't as hard on the kidneys. This was a bit of a bummer because Jerry has been getting his Prograf free from the company that makes it and he has a good supply of it. Well, when Jerry went for labs a couple weeks ago, they said that his numbers are improving and he won't need to switch his meds or see a urologist. They also lowered his Prograf dose a little more which will be better for his kidneys. Also, Jerry's blood count has been a little low ever since his transplant and they told him that it is finally almost in the normal range now.
Added on 3/3/11: Magic Peanut Butter Pudding
Added on 3/2/11: Salsa Sausage Quiche
Added on 2/27/11: Turkey Burgers with Mushroom Gravy
Added on 2/20/11: Mock Crab Cake
Added on 2/16/11: Green Chile Cheeseburgers and Microwave Lava Cake
Added on 2/14/11: Sloppy Dog Salad
I added an update to my review of the sweetener Truvia on 2/6/11.
I corrected an error in the Cran-Orange Sauce recipe on 2/2/11. I'd forgotten to mention when to add the water to the pot.
I updated the amount of sweetner again in the Buttered Almond Crème Brûlée recipe on 1/30/11.
Added on 1/28/11: Low Carb Meringues
I added an update to the Buttered Almond Crème Brûlée recipe on 1/19/11.
Added on 1/16/11: Super Fast Cream of Asparagus Soup
I added an update to the Chicken with Peanut Curry Sauce recipe on 1/7/11.
Added on 12/26/10: Tilapia Fromage
Added on 12/17/10: Coconut Cream-Cheese Squares. I also added a spiral slicer to my Gadgets section. It's at the bottom of page two.
Added on 12/14/10: Chocolate Velvet Avocado Mousse
I added an update to my Cheesy Spinach with Caramelized Onions recipe on 12/13/10.
Added on 12/11/10: Zucchini & Mushroom Zoodles and Almond Protein Bars (3 variations).
11/27/10: I increased the sweetener in Jody's Pumpkin Bake.
11/21/10: I added a new recipe blog to my Links page: Luscious Low Carb
11/19/10: Last weekend Jerry and I drove to San Antonio for a "meatup" with a big group of members from the Zeroing in on Health forum. Jerry also got to visit with his sister and his Dad while we were there. We couldn't attend the San Antonio meatup last year because Jerry was so sick but you may recall that Charles drove out here to Houston just to meet with me for a few hours before driving back to San Antonio. It was great fun to see Charles again and to meet everyone else who was there. Fourteen people attended the meatup, but a few of them were family members who weren't necessarily low or zero carbers. The meatup was held at Fogo de Chao on the Riverwalk. Before I show you a photo of Jerry and I at the meatup, I thought I'd post a couple of pictures of Jerry when he was sick and shortly after his transplant so that you can see how far he's come in the past few months.

This one was taken last February, about two months before his transplant. By this time he had no fat or muscle left on his body.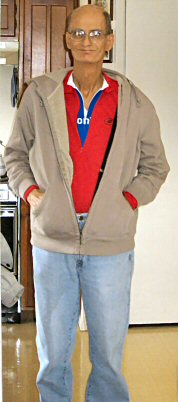 This one was taken shortly after his liver transplant. His belly looks so big because it was full of fluid.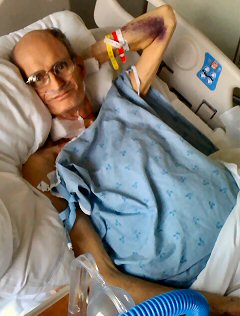 This photo was taken at the San Antonio meatup last weekend: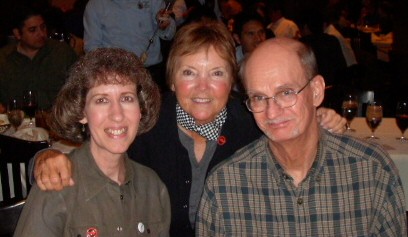 11/17/10: The website with my stolen recipes has finally been taken offline. When the new owner of the domain learned that nearly all of the recipes came from my site, they decided to just shut down the whole site.
I made an adjustment to the Raspberry Almond Crumb Cake recipe on 10/25/10. The cream cheese filling was too thick to spread over the batter as originally stated.
Added on 10/21/10: Pimiento Cheese II. I also added an update to the Sour Cream Dessert Sauce recipe.
10/8/10: I weeded out some dead links on my Links page today. Let me know if you have any favorite low carb sites that you don't see in the list.
Added on 10/6/10: Cottage Cheese Gelatin Fluff and Sour Cream Dessert Sauce
Added on 10/5/10: Jalapeño Cheese Appetizer
UPDATE 10/4/10: Jerry informed me the other night that he's ridden his bicycle about 90 miles so far since June. That may not seem like much, considering that he used to ride about 40 miles at a time before he got sick, but it's great for someone who has been through what he has.
Added on 10/2/10: Cinnamon-Apple Flax Muffins
Added on 9/30/10: Pizza Toppings Casserole
UPDATE 9/28/10: It seems like these days we're mostly going around and around with the insurance company trying sort out who is supposed to pay which doctor bills. At this point Jerry has met his out-of-pocket for the year so we don't have to pay any more copays for doctor visits. However, the various doctors' offices can't seem to remember that and send us bills for them anyway. You'd think that they'd never dealt with insurance companies before. A couple weeks ago we got a bill for some labs that Jerry had done back in February. The lab wants us to pay them $470 because the doctor's office forgot to get approval from Jerry's PCP to have them done at his lab. Of course we won't pay it but we still had to go through the hassle of calling the various parties involved to sort out just who is supposed to pay it. Naturally everyone thinks that it's someone else's responsibility.

A couple weeks ago they lowered Jerry's Prograf and Prednisone dosages. Within a few day on the lower dose of Prednisone, Jerry's blood pressure dropped very low. It's obvious now that the Prednisone was what was causing his high blood pressure. We knew that it had to be one of his meds causing it because Jerry never had high BP before he had his surgery. Before starting on his BP med (Lisinopril), his BP was typically around 153/97 after his transplant. After lowering the Prednisone it went as low as 85/47 for a few days. This had Jerry worried so he's stopped taking the Lisinopril. Within a day or two after stopping it he was getting normal BP readings; not too high and not too low.

There's not much else to report right now except that Jerry has been riding his bicycle just about every night for a while now.
9/22/10: I just uploaded the blank 2011 calendar so that you can use it to plan your menus for next year. It can't hurt to get an early start, LOL.
9/19/10: I want to let everyone know that I am aware that Amy has changed what she had on her About page so that it's no longer copied from my site. This is what it says now:

"Welcome to my Atkins Recipe website! This website contains some of my favorite recipes that I have stumbled upon in my 4 years of eating low carb. The recipes come from many sources, including magazines, cookbooks, and websites (such as Linda's Low Carb recipes). Enjoy!"

I also am aware that her statement that the recipes on her site come from many sources is a lie. She has 56 recipes on her site and of those, 54 were taken from my site. There would have been one more recipe that wasn't one of mine but she removed it. It was Jamie's Cauliflower Pizza Crust recipe and she removed it at Jamie's request. She has ignored my request that she remove my recipes.
9/10/10: I learned this morning that Amy's blog is still online. She's blocking Jamie's and my IP addresses so that we can no longer see the site. I've wasted too much time on this and it's keeping me from getting things done. Everyone knows that those are my recipes and photos so I probably won't bother doing any more about this. From what Jamie has gathered, this person sets up websites and blogs and then moves them around when they are taken down for copyright infringement. She currently has a Twitter page about the recipe site but I'm not a member of Twitter so I can't do anything there. Here's the link. I don't know how Twitter works so I don't know if you can post comments there or not.
9/9/10: UPDATE: It's come to my attention that the blog containing my recipes and photos has been shut down! Thanks to everyone for helping to make it clear to this person that what she did was wrong.
9/9/10: Good news and bad news. The Facebook team has taken down that woman's Facebook page. The bad news is that she hasn't yet removed my recipes and photos from her blog. However, she has been removing the comments that people had posted there about her stealing my recipes.
9/7/10: Today I found out from a friend that someone has posted a bunch of my recipes and photos on their blog and is claiming that they are her own. Check out her blog and Facebook pages and see what you think. Don't those blue and white dishes look awful familiar???
Added on 8/26/10: Smoky BBQ Sauce II
I added an update to Tyler's Beef Stroganoff on 8/25/10. I also added a new tip to my Time Saving Tips page. It's at the bottom of the page.
Added on 8/14/10: Chicken Parmesan Bake
7/29/10: I received an email from someone named Mike this morning and I'm unable to reply due to the security settings in his email. I think that my reply to Mike is important enough that I will post it here and hope that he reads it. Here is what Mike wrote to me:

"I have been looking at the recipies on your website, great site!!! I want to try to low carb it myself. I have a question though; many of the recipies seem to have butter, cheese, eggs, salt, heavy cream etc. Most doctors tell you not to eat all of that stuff. Aren't these things bad for you as well? Does the low carb benefits outweigh the potential health risks of eating all the butter, eggs, etc?"

Here is my reply to Mike:

"I'm not aware of any health risks associated with eating eggs, butter, cheese and cream but I have a question for you. Why would you consider trying a diet that you perceived as being harmful to your health? I suggest that you do some research on low carb diets and find out why they work and are a healthful way to eat. Here is a list of books to get you started:

Dr. Atkins' New Diet Revolution - Robert C. Atkins, M.D.
Protein Power Lifeplan - Drs. Michael and Mary Dan Eades
Natural Health & Weight Loss - Barry Groves"
I added an update to the Easy Cheesy Chili Chicken recipe on 7/28/10.
7/28/10: It's come to my attention that I haven't posted an update on Jerry in quite some time. That's mainly because there's not much news to report. Jerry is pretty much back to normal now other than taking a boatload of meds every day. He's driving places on his own now and would be riding his bike more if it wasn't so darn hot out. He's still eating like a horse but not gaining much weight. He weighs around 157 pounds (he's 6'2" tall) but at least most of the fluid in his legs is gone now. I haven't seen any sign that the Prednisone is going to turn him into a blimp like it typically does. They're gradually lowering his dose so maybe he won't get fat from it. He's completely off insulin now and doesn't even have to test his blood sugar anymore. He's also finished with his physical therapy sessions. And, the best news is that he only has to see the transplant doctor downtown every three months! He still has to have labs done every two weeks, mainly to test his Prograf level, but they're letting him have that done locally now instead of going all the way downtown for them.
Added on 7/21/10: Low Carb Maple Syrup. I also added an update to the Cinnamon Pancake Syrup recipe.
Added on 7/19/10: Breadless BLT Sandwich
Added on 7/7/10: Bacon Beef Rolls
I added an update to the Cheese Crisps recipe on 7/6/10. Try them dipped in low carb ketchup for a yummy treat.
Added on 7/3/10: Cinnamon Pancake Syrup. I also added a new tip for using xanthan gum in sauces. Click here and check out the update.
6/30/10: I just realized that I never mentioned that Jerry has been riding his bike again. He's gone out twice now, but just around the neighborhood. Also, the doctor told us a couple weeks ago that it's alright for Jerry to drive now. He's driven himself to PT the last two times.
6/19/10: Jerry's blood sugar was quite good all day today without any insulin at all. It was 100 when he got up. Before lunch it was 115 and before dinner it was only 103.

It's also good to see him starting to do normal things again such as bringing in the trash can and the mail. Right now he's out back watering the yard. He's been puttering around with his car a bit lately too. He's decided to keep his car and have it repaired. He'll just do without air conditioning because it would cost over $1,000 to fix it. He's been without it for at least two or three years now anyway. He thinks that all it will need to get it running is to fix a leaking hose and put in a new battery. He's pretty sure that it doesn't need a new water pump or anything else expensive like that.
I fixed a typo in the Low Carb "Miracle Whip" Salad Dressing recipe on 6/19/10. It should have said "1 cup" mayonnaise.
UPDATE 6/18/10: Jerry's blood sugar was 127 tonight before supper. That's not great but not high enough that he had to take some insulin. It was 153 before lunch and he's supposed to take a couple units of insulin when it goes over 150.
6/18/10: The good news is that the doctor said yesterday that Jerry could stop taking his morning insulin. He's to try going without it for a couple weeks and see how it goes. Also, he doesn't have to go back to the doctor again for a month but he will need to go for labs in two weeks.

The bad news is that when Jerry tested his blood sugar before lunch today it was over 150 so he had to take some insulin. This was the first time that he'd tested his blood sugar since stopping the morning insulin as of this morning. I have a feeling that they might tell him to go back to taking insulin again if his blood sugar continues to run that high all the time without it. On the other hand, he'd had a very carby breakfast late this morning with no protein to speak of. It will be interesting to see what his reading is before dinner tonight.

The doctor wanted Jerry to have an EGD and Colonoscopy because he's concerned that he might have some internal bleeding that's causing his hemoglobin to be so low. However, the results of his blood work from yesterday indicate that it's back up to normal now since his blood transfusion last week. Jerry will call and cancel those tests because they're no longer necessary.

Jerry is continuing to lose the excess fluid from his belly, feet and legs but it's not all gone yet. His weight is down to 155 pounds so he's lost 35 pounds of fluid since he came home from the hospital. He estimates that he's got another 20 pounds to go yet but I'm not so sure. He's looking pretty skinny to me and his belly isn't all that big anymore. He's able to wear normal clothes now and he has one pair of street shoes that he can wear. He's eating like a horse but so far the Prednisone isn't making him get fat. The doctor warned him that it could catch up with him very suddenly though and he should be careful not to overeat. I think that he's got a long way to go before he starts to be remotely fat though. He could stand to gain at least 15-20 pounds of fat which would put him around 170.

Jerry has five more sessions of physical therapy to go and he's doing well with it. They've been working on his balance issues and he rides the stationary bike at each session among other things.
Added on 6/18/10: Claussen Kosher Pickle Clone
Added on 6/16/10: Bacon, Egg, Avocado & Tomato Salad
Added on 6/14/10: Buttered Almond Crème Brûlée
Added on 6/13/10: Chocolate Mint Protein Shake
Added on 6/10/10: Low Carb "Miracle Whip" Salad Dressing
Added on 6/2/10: Whopper in a Bowl
5/30/10: Jerry fell in the kitchen late last night after I'd gone to bed. I heard him call out when he fell. He said he was trying to swat a bug and lost his balance. He hasn't been using his walker or cane when walking around the house so they weren't handy at the time. He has a long gash on his arm from hitting the cupboard.

I looked back over Jerry's vital signs log that he's been keeping since he came home from the hospital and he's lost 25 pounds of fluid already this month. He started out at 190 pounds on May 7th and he's down to 165 now. According to the log he's lost 19 pounds of fluid this past week, just since last Sunday! At this rate it should all be gone, hopefully for good, very soon.
5/29/10: Thursday at Jerry's PT session they evaluated his condition. They had him do a few small exercises, such as squeezing certain leg muscles, but nothing at all strenuous. I'm hoping that they'll give Jerry a better workout at future sessions. He can do the easy stuff like squeezing a towel between his legs at home. They're hoping to get him on their bicycle machine before too long and I think that's what Jerry would really like. He misses riding his bike. Jerry will have seven more PT sessions over the next few weeks, going twice a week.

The transplant coordinator called while we were at PT on Thursday and they said for him to lower his Prograf dose again. The message that Nick wrote down said that we won't have to go back for more labs again until next Thursday. Yeah! I was afraid that we'd have to go back on Monday or Tuesday for blood work to check his Prograf level. Jerry's regular Monday appointment was changed to Thursday next week due to the holiday on Monday but they do have a lab at St. Luke's that's always open that we could have gone to if necessary. It will be so nice to only have to drive downtown once next week for a change.

Jerry said that he's been losing 4-5 pounds every day or two for the past few days. It looks like the fluid is finally starting to go away. It's hard to tell that by looking at him but it does seem like his legs are a more normal shape now than they were when he came home from the hospital. His belly is still very big but he said that it doesn't hang over quite as much now. I think he said he's down to around 169 pounds. Jerry is eating very well now so his weight loss is not due to lack of appetite or from not eating enough. Last night I made half pound cheeseburgers and baked beans and Jerry cleaned his plate. He even went back and finished off the baked beans after I went to bed last night and he also had some ice cream.
5/24/10: It may not seem like much to get excited about, unless you haven't been able to do it for almost two months, but Jerry finally got to take a real shower yesterday. The grab bar was installed a few days ago and his new shower chair arrived on Saturday. Jerry was able to stand up for most of his shower and then sat on the shower chair to wash his legs. He left the bathroom door open in case he needed my help but he never did. He did great on his own.

We went downtown for labs and a doctor visit again this morning. The doctor was in surgery so we didn't actually see her this time. A little while ago we got a call letting Jerry know that he should lower his dose of Prograf so that means yet ANOTHER trip downtown on Thursday for more labs. I hope that before too long these trips will be much less frequent. Thursday will be a busy day with labs downtown early in the morning and PT in the afternoon. I'll have to squeeze in some grocery shopping sometime in between.

I called the pharmacy to refill Jerry's meds today and was happy to hear that the they will deliver them to the house at no charge. I only had to refill 11 items this time because he still has more than a month's supply left of a few things. He's still got at least a month or two left in both of his bottles of insulin and he will also be able to use what he had left of his Furosemide from before he went to the hospital. He's got at least two months worth of that left because he's only taking half as much now per day. So, instead of costing almost $250 like last time, this time it will only cost us about $130.

Jerry's blood sugar has been very good most of the time but every now and then he gets a super high number. A couple of times it's even gone over 200! Of course that usually happens when he's recently had some kind of sweets or other high carb food. This morning he had pancakes for breakfast and then had a box of popcorn on the way home from the doctor so his BS was 149 just before lunch. What did he expect after eating only carbs all morning? He understood how the pancakes and syrup would cause his BS to go up but he was surprised about the popcorn. He didn't realize that the starch in popcorn is just another form of sugar.
5/19/10: When Jerry and I were at the clinic downtown on Monday there were a couple of other people in the waiting room who had recently had liver transplants. They'd both had them much more recently than Jerry yet they both looked very well compared to how Jerry still looks even this long after his transplant. We overheard bits of their conversation and one of them said they went home only five days after their surgery. They both had their surgeries within the past two or three weeks and both are very mobile and looked pretty much healthy and normal. I never would have guessed that the man had even had a transplant at all. There were no signs that he'd even been sick. The woman looked very good too but she had some swelling in her legs and was using a walker even though she moved around very quickly and easily. I think what amazed us was that those two had somehow been high enough on the transplant list to get a liver even though they apparently never got anywhere near as sick as Jerry was before his transplant. It would seem that how sick a person is before transplant isn't nearly as important as a having a high MELD score and that it's possible to have a very high MELD score and not appear to be terribly sick. I think that Jerry's MELD score was relatively low because his kidneys never failed even though he was extremely sick in ways that perhaps didn't make for a high MELD score. It doesn't seem logical to me but apparently that's how it works. After seeing those two people it makes me wonder if perhaps it's not that hard to get to the top of the transplant list after all or that maybe there aren't as many people waiting on the list in Houston as we were led to believe.

We finally got a call on Tuesday from the landlord's handyman about installing the grab bar in the shower. He came this morning and installed it and it looks quite sturdy. I also ordered a different shower chair from Amazon today. It looks just like the one I took back to Walmart but it has some extra cross-braces between the legs. It's rated to support up to 500 pounds so I don't think Jerry will have a problem with it collapsing.

Jerry goes next Thursday to be evaluated for his physical therapy. I'm starting to wonder if he'll actually get much benefit from it now that he's been home for so long. He walks around the house without his walker or his cane most of the time now. We only use the wheelchair when he goes to doctor's visits because it would be way too much walking for him from the parking garage to the clinic. Once the fluid goes away from his legs I think he'll be able to do more walking outside the house.

Tomorrow I have to take Jerry back downtown for more labs. After his labs on Monday they said for him to lower his dose of Cellcept (another anti-rejection drug) so they need to check his blood again to see how the new dosage is working out.
5/16/10: We had quite an ordeal this afternoon. Jerry decided that he wanted to take a real bath for the first time since he got home from the hospital so we thought it would be best if he just sat on the shower chair in the bathtub and used water from a bucket to wash and rinse with. The landlord hasn't installed a grab bar in the shower yet so standing to bathe wasn't an option. Everything was going pretty well until all of a sudden the legs on one side of the bath chair started to collapse. Jerry's weight was causing the legs to spread farther and farther apart on that one side and would have eventually tipped him into the tub. I had to quickly get him rinsed off so that he could get out of the tub before that happened. I can't believe that the chair couldn't support the weight of a man who weighs around 180 pounds. The product description at Walmart says that it should be able to support up to 250 pounds. Out of the 40 reviews on the Walmart site, everyone gave it a good review except for one person who said that the legs collapsed and broke under their 195 pound weight. It's looking like Jerry won't be able to shower or use the bathtub again until his legs are steady enough for him to stand the normal way. Hopefully Walmart will let us return the chair without the box that it came in because I already threw it out. We do have the receipt.
Added on 5/14/10: Cheese Crust Pizza
5/11/10: I'm really getting a good workout pushing Jerry in his wheelchair at the hospital when we go for his doctor visits and labs. We've been parking in the garage by St. Luke's and taking the sky bridge from there to the O'Quinn building and then another sky bridge from there to the Baylor building where Jerry's clinic is. In all, we have to use three different sky bridges because there's also one going from the parking garage over to St. Luke's. It's really working out my legs because they all go up hill part of the way. However, it looks like most of Jerry's future clinic appointments and lab work will be done at St. Luke's starting next week so I won't get quite as much of a workout pushing Jerry in the wheelchair anymore.

It looks like Jerry might only need to go downtown once a week now unless they decide that he needs to come in for more labs based on his previous lab results. After they looked over Jerry's daily blood sugar chart on Monday, they decided to lower the dose of his daily insulin from 10 units to 8 because his numbers had been so good since he came home. They also lowered his magnesium. They think that the magnesium might be causing his loose stools. Anyway, Jerry's doctor visits will be every Monday for a while and extra trips just for labs will be on an as-needed basis.

Unfortunately, Jerry's good blood sugar readings didn't last. Since lowering the daily insulin dose this morning, Jerry's reading at lunch time today was in the 190's and then it was 209 before supper. He never even had readings that high when he was still in the hospital. Apparently lowering his all-day insulin dosage wasn't such a great idea. On the other hand, they called today and told Jerry to lower his Prednisone a bit so maybe the numbers will start to come down again since it's the Prednisone that causes the diabetes. They want him to come back for more labs on Thursday to check to see how the lower dose of Prednisone is working out.

As far as mobility, Jerry had a very good day today and didn't use his walker at all to get around the house. His appetite is also increasing. He ate three big meals today and also wanted to snack all day long. Maybe his out of whack blood sugar is making him hungrier.
5/8/10: Jerry is finally home! Nick and I had to be at the hospital Thursday morning for some training before Jerry could go home. We met with the diabetes educator, the transplant team pharmacist, the dietitian and the after-transplant coordinator throughout the day. The dietitian said Jerry can eat anything he wants at home, but he should avoid buffet restaurants and organic produce which can have more "bugs" and bacteria, etc. We took a break for lunch and wheeled Jerry across the street from the hospital to a Subway restaurant. He was so tickled to be outside after almost a month and a half. It was a gorgeous day that day too. Before we left, they took his staples out but he later realized that one got left behind that was hidden under his skin. He'll let the doctor know about it when he sees him next Monday.

Jerry is having mobility problems right now because he's so huge due to fluid retention. He's nearly as big as he was last fall. His legs and feet are very big but he's mostly carrying a huge amount of fluid in his belly and behind. It's hard for him to get up from sitting because he has to lift about 40-50 pounds of water around his middle. He weighs about 190 but he still has no fat on his body. They know that he's having fluid problems right now so they said it's alright for me to transport him in his wheelchair for now, at least when we go to doctor's appointments and things like that. He's pretty nimble once he's on his feet and using his walker though. He goes to the bathroom by himself and hasn't asked me for help with that at all so far. I've only had to hoist him up two or three times; once from his bed and twice to get him out of the car. Jerry is happy with the commode that the hospital ordered for him. The walker is working out pretty well too except that it's too wide to fit through the doorways of our house. He has to go through them sideways. It's kind of strange that his transport chair can go through most of the doorways (except for the bathroom door) but the walker is too wide.

Jerry takes 10 units of long-acting insulin every morning no matter what his blood sugar level is but he hasn't needed any extra insulin shots throughout the day so far since he's been home. His blood sugar has been in the range of about 70-103 mg/dL most times when he checks it before his meals. There were times in the hospital when it had gone as high as the 170's. They told him to take an insulin shot when his BS goes above 150 and so far that hasn't happened. Jerry has charts for keeping track of his blood sugar, blood pressure, weight and temperature throughout the day. He's to take those charts with him whenever he sees the doctor.

One problem that is bothering Jerry is that the backs of his hands and forearms are constantly bleeding or bruising because his skin has gotten so thin. Just bumping his hand causes a bleed.

We had to go downtown for labs very early Friday morning. Whenever Jerry goes for blood work they said they will call him later to let him know if his Prograf dose or other meds need to be adjusted. Friday afternoon they called and told him to lower his Prograf dosage by one pill. He was taking 7 pills twice a day and now he's on 6 pills twice a day. We will have to go downtown for labs and doctor visits twice a week for a while plus he'll have physical therapy twice a week for about a month. We'll get that set up next week. The transplant pharmacist is checking into getting Jerry's prescriptions set up through the VA but we haven't heard back from her about that yet.
5/4/10: Jerry is still scheduled to come home from the hospital on Thursday. Our son and I will have to be at the hospital at 10:00 that morning to attend a class on caring for Jerry once he gets home. They're also going to send us home with his first month's worth of meds (20 of them!!!) which will cost us a whopping $250 per month! Thank goodness that Jerry is going to get the Prograf for free or we'd have to pay another $400 per month for that. The therapist at the hospital is making arrangements to have a walker and a commode for Jerry to use at home (Blue Cross will cover it). I've ordered a shower chair from Walmart because the insurance won't cover that and the one that he could get through the hospital would cost $65 instead of $30 for a not-quite-as-fancy one. I also called our landlord about having grab bars installed in the bathtubs. It looks like Jerry will have to go to physical therapy twice a week and hopefully they can arrange for him to go to some place close to home. I have a feeling that I'll be doing a heck of a lot of driving for a while taking Jerry to PT, doctor's appointments and for blood work. This morning I noticed that one of my tires was almost flat. I got it repaired for no charge and I'm VERY relieved that it didn't happen driving on the freeway to or from the hospital. Hopefully my old car will be able to take all the driving I'll be doing. While it was in the shop this morning I had the mechanic also check the transmission fluid which has been slowly leaking for as long as I've had my car. He said it was fine. Hopefully it won't leak too much between now and when Jerry is able to check the fluid himself again. He told me this morning that he was able to get out of bed on his own with his walker to use the bathroom and get washed up. Just two days ago he wasn't able to do that by himself.
5/2/10: When I got to the hospital today they were giving Jerry two units of blood because they said that his count was low. I have no idea what might have caused that. The nurse said that he didn't appear to have any internal bleeding. Now I wonder if they'll still send him home on Thursday. Jerry didn't have any physical therapy today. Apparently the only reason they did it last Sunday was to get him caught up. They don't normally do PT on the weekends. They are no longer tube-feeding Jerry through his nose. He said that the tube came out accidentally a couple days ago while he was in the shower so they decided not to put it back in.

Jerry told me that Astellas delivered a free month's supply of Prograf to the hospital for us to take with us when Jerry goes home. I guess they must have sent it before they knew for sure that we'd be accepted in the assistance program.
4/26/10 (later): I have some great news. UPS dropped off a package today with a 90-day supply of Jerry's anti-rejection pills. There wasn't much information enclosed in the box so I called the toll-free number. They said that Jerry is enrolled to get Prograf free for one year. CVS will send the shipments every three months. Shortly before the year is up, Astellas will call Jerry and he will go through the enrollment process again to see if he qualifies for another free year of Prograf. Thank goodness that we won't have to deal with Blue Cross and their outrageous $400 monthly copay for Prograf. If the VA benefits come through Jerry might be able to get all of his other meds more cheaply too.

Also, when I called Jerry to tell him that the Prograf had come, he mentioned that he'll probably be in the hospital for a while longer than he thought the other day. This morning the surgeon said that he might be there at least a couple more weeks. Jerry said that he's not feeling very well today. He's been having some diarrhea and not eating much.
4/26/10: It turns out that they don't do any PT at the hospital on Saturdays but they do on Sundays. When I got to the hospital yesterday morning I discovered that Jerry wasn't in his room. He was out walking the hallway with a walker. After that, the therapist took him to the "gym" for some sitting and standing exercises. Since he was the only patient in the gym she let me stay and watch. He mostly did a variety of leg lifts while sitting and standing. While doing the standing exercises, he used a tall table for support. Jerry did well with all of them except for the heel-lifts. He couldn't lift his heels up more than a fraction of an inch off the floor. After his PT session, Jerry wheeled himself back to his room in a wheelchair and he seemed to move pretty fast.

Jerry didn't have any IV's, oxygen or his feeding tube connected yesterday. He said that the doctor told him that he won't have to be tube fed as long as he drinks at least four of those bottled nutritional drinks per day plus his regular food. I don't think that he'll be able to do it though. He only managed to eat a bowl of soup and half of a roast beef sandwich for lunch and was too full for a bottled drink afterward.

Jerry's legs are very puffed up with fluid but his belly doesn't seem to be getting nearly as huge as it had before. His blood sugar was pretty good in the afternoon. It was 109 before lunch and the nurse said it had been the same earlier in the morning. However, I have no idea how high it would actually be if they weren't giving him the all-day insulin every day. At least he's not getting numbers above 150 now.

Before I got there, they had Jerry take a shower for the first time in over a month. They have a chair in the bathtub for him to sit on while bathing. It just occurred to me that yesterday was the first day that Jerry wasn't lying in the bed at all while I was there. He sat in the wheelchair to eat his lunch.
4/23/10: I was pleasantly surprised to learn something about Jerry's Blue Cross insurance the other day that I hadn't noticed in the manual before. There is a limit of $650 in copays that we will have to pay for the year (which I assume doesn't include prescription copays). Since Jerry has already paid $115 in copays so far this year for doctor visits, we will only owe another $535 of the remaining copays for his two hospital stays ($250 each) and ambulance ride ($100). After that, Jerry won't have to pay anything when he goes to the doctor or if he ends up in the hospital again, etc.

They finally got around to moving Jerry to his new room around 2:00 yesterday. Well, it actually took them three tries to get a room for him. When they got him to the first room he was assigned to there was no bed in it so they moved him to another room. A little while later he called to say that they'd moved him to yet another room that had a longer bed (he's 6'2" tall). The visiting hours on that floor are 24/7 but Jerry said that they'd prefer that we don't come to visit him until after 3:00 in the afternoon during the week. They said that we can come at any time on the weekends so I guess they don't do PT on weekends. The next time I go to visit Jerry I'm supposed to bring some street clothes and shoes for him to do his PT in.

I think it would be nice if the physical therapists would let me come once during the day so that I can see what kinds of things they're doing for Jerry. I can't think of any reason that they wouldn't want me to see what they're doing. When I called Jerry today he said they told him there's a good chance that he could come home mid to late next week. I'm not going to hold my breath though because they seem to change their minds a lot at that hospital. Today they mainly just evaluated Jerry's condition and had him do some walking with a walker. He was going to have two 30-minute sessions this afternoon but he didn't know what they'd have him doing. He said that there is a gym on that floor but he hasn't seen it yet.
4/21/10: When Nick and I went to see Jerry Monday night, he told us that they were thinking about sending him home on Thursday. I thought that was a crazy idea because Jerry still can't get out of bed by himself and he's still not doing much walking yet. He can't bathe himself or use the bathroom either. For the most part, other than short walks, his physical therapy has been sitting in his chair for several hours per day. After hearing this, I assumed that the doctors had decided that his progress was going so slowly that they might as well just send him home to get his strength back at his own pace or that Blue Cross had gotten tired of paying the bill. Sending Jerry home in his current condition would have been a big burden on my shoulders because I'd have to do everything for him. I'd also worry that he might fall and I wouldn't be able to get him back up. It just made no sense to me that they'd do this since there is a sign on the wall in his room that says patients don't go home until they can do six laps around the ward. I had also been told by the transplant social worker that in order to go home, Jerry must be able to do everything for himself and that we weren't going to be allowed to help him.

Anyway, the good news is that I found out today that they've decided not to send Jerry home yet. Instead he's going to be put in the 3-hour per day physical therapy program. We'd been hoping that he would be allowed to get in that program but up until now the doctors didn't think that he'd ever be strong enough to handle it and they were talking about moving him to a long-term rehab hospital. Hearing that they weren't even going to do that and were just going to send him home was quite a shock. They'll be moving him to a new room today. Jerry said that it will be a private room on a different floor of the hospital.

Jerry said that he's swelled up really bad in his belly and lower body just since we last saw him a day ago. The doctor said that there's no point in removing the fluid from his belly again because it would just come back by the next day and there's always a risk of infection from the procedure. They seem to think that the fluid problem will eventually go away on its own. Obviously the diuretics aren't helping or it wouldn't be getting worse. Maybe once he starts doing some strenuous exercise it will help reduce the fluid build-up.

I asked Jerry the other day if the doctor has said why he's continuing to have so many of the same symptoms that he had before the transplant and he said that the doctor told him that he'll continue to have some of them for several months until things in his body work themselves out and get back to functioning normally. He's also still on oxygen because he said he still sometimes has trouble catching his breath, especially when he first wakes up.
4/15/10: Not all that much to report this time. I spoke with the diabetes nurse the other day and they want me to learn how to give Jerry his insulin shots as a backup person. Normally Jerry will do it himself. One thing that the nurse mentioned is that Jerry is getting two kinds of insulin. One kind is taken every day and lasts for 24 hours. The other kind is taken as needed when Jerry's blood sugar goes above 150. He also said that Jerry will have to stay on insulin until he's off the Prednisone.

Jerry walked across the hall with a walker on Wednesday and he's back on solid food. He complained that the roast turkey was horribly dry. I wonder how he'll manage to put on any weight eating that nasty hospital food. It's not all bad though. They have a nice cream of mushroom soup that turns up on the menu now and then. He may not be gaining much weight yet but unfortunately Jerry's feet are starting to swell up again and they're going to put him back on diuretics.
4/11/10: Jerry was very sleepy and out of it all day yesterday. He still had the tube in his nose for draining bile and food out of his stomach. They're feeding him intravenously for now and he was only allowed to suck on a few ice chips. Dr. Ankoma-Sey (Jerry's liver specialist) stopped by Jerry's room for a few minutes in the afternoon and he said that Jerry is doing quite well with his new liver. However, he said that something is coating Jerry's intestines which is causing his digestion problems. He didn't seem too concerned and said that it should clear up soon. They were going to have Jerry sit in the chair but he was feeling too dizzy. The nurse said that draining off so much fluid can cause a drop in blood pressure and thus cause dizziness. In the meantime, Jerry's rehab isn't progressing much at all.

I'm not sure if I mentioned before that since the transplant Jerry's hands have stopped shaking. That must have been caused by the ammonia getting to his brain. We noticed the difference right away as soon as Jerry was able to feed himself a few days after the surgery.

I just realized that they haven't taken Jerry for any more breathing treatments since the one that he had last Tuesday. Maybe they took him for the treatments very early in the morning before we got there but he hasn't mentioned it. We were told that he'd have those treatments every day. I suppose that it's pretty much the same as with his physical therapy. They do it when they have the time which isn't very often.
4/10/10: It's hard to believe that it's already been over a week since Jerry got his new liver. I guess it really will be a quite while longer before he'll be ready to go home. After hearing that most liver transplant recipients usually go home from the hospital after only 5-10 days, we're now starting to hear that it's more realistic for someone like Jerry to remain there for 2-3 weeks.

When Jan and I arrived at the hospital yesterday, the doctors had just put a tube through Jerry's nose that went down to his stomach. They sucked out a lot of food and liquid that had accumulated in there. They said that for some reason things were going in but then just sitting there not going out and kept him from having room to eat more food. I don't quite understand how that's possible though since Jerry has been having several BM's per day. It seems unlikely to me that there could be all that much food not leaving his stomach and still be enough that's digested to make him go several times a day. Considering the tiny amount of food that he's eaten since his surgery where would all of this food be coming from? I guess that the doctors must know what they're talking about even if it doesn't seem logical. After they removed the food from his stomach a little while later they took him for another paracentesis. They removed 5 liters of fluid this time. Jerry said that he did feel better afterward. The plan is to feed Jerry through a tube in his nose at least until today sometime.

Yesterday we met the hospital chaplain that Jerry had been telling us about. Jerry has been enjoying his visits. This was the first time that the chaplain had seen Jerry since his transplant though.
4/8/10 (later): Jerry's blood sugar was up a bit today so they did have to give him some insulin before his dinner tonight. The good news is that Jerry had a really good physical therapy session this afternoon. The hospital is leaning toward sending Jerry to an outside rehab hospital, once he's ready to leave the transplant floor, and Jerry's coming to the realization that he'll get back on his feet and back home much sooner if he can somehow get into the hospital's inpatient 3-hour per day rehab program instead. So, today he worked really hard to do what the therapist wanted him to do and everything suddenly clicked. He found that he has more strength than he thought he had and he actually walked back and forth across his room with the walker a few times. He even walked backward once. We were amazed at how much he's improved just since yesterday. The bad news is that we don't seem to be getting anywhere in regard to the fluid in his belly and getting the doctor to have it tapped. It's so bad that he can hardly eat anything because he feels very full after only a couple bites of food. He's also starting to have trouble breathing because of it. When he falls asleep, and suddenly wakes up, he has a hard time catching his breath at first. They've got him back on oxygen for now. We don't know why the doctors won't tap the fluid and give Jerry some relief or why they won't at least tell us why they're not doing it.
4/8/10: I forgot to mention that yesterday Jerry's blood sugar was a bit better. When they tested him in the afternoon it was 130 so they didn't give him any insulin.
4/7/10 (later): I found out today that the transplant team pharmacist is still working on trying to get Blue Cross to cover Jerry's Prograf with a normal copay amount and not the difference between the brand name and generic. She just said that it can take a while to fight the battle with them. I also found out today that it will actually cost us $400 per month out of pocket, not $200 for his Prograf. The pharmacist said that it was only going to be $200 for the first month because the company issued a one-time $200 off coupon. That means we'll have to pay over $600 per month for all of Jerry's meds unless he can get Prograf free from Astellas or get on the VA prescription plan. Getting VA benefits will be the best option because the Astellas assistance program might only be temporary and Jerry will be on Prograf for the rest of his life. Of course if Jerry switches to a different insurance company next year, we wouldn't have the same problem that we're having with Blue Cross this year.

Today Jerry had both a physical therapist and an occupational therapist come in to work with him. They had him stand up and walk a few steps with a walker to the big chair and sit down. Once he was in the chair they had him wash his face, comb his hair and brush his teeth. Next they had him do some leg and arm lifts and things like that. They really wanted Jerry to do a few of what they called "stand up, sit downs" but by then his insides were hurting pretty badly and he needed a break. We don't know if they came back to have him do them later in the day. They told us that someone from the inpatient physical therapy floor would be coming to evaluate Jerry to see if he is a suitable candidate for moving to their floor for 3 hours of daily PT. To do so, Jerry would have to agree to do a full 3 hours per day (a 2-hour morning session and a 1-hour afternoon session) even if it's painful and difficult. Otherwise, they will likely transfer Jerry to full-time nursing rehabilitation hospital where he can receive PT at his own pace. I'm not crazy about the second option because that would probably mean that it would be much longer before Jerry is able to return home. It bothers me a bit that they want to evaluate Jerry so soon. How can he possibly know if he can handle three hours per day of PT when so far he's only had PT for two days and then only for a few minutes each time?

As of today, Jerry is back on real, normal solid foods instead of liquids. We didn't see what he had for breakfast this morning and he only ate a few bites of his lunch because he'd eaten breakfast only an hour or two before they brought his lunch. Hopefully he did better with dinner tonight after we left.

I was disappointed to find that they still haven't tapped the fluid in his belly and Jerry said that the doctor hasn't mentioned it again since a few days ago. I told Jerry that he will have to nag the doctor since I'm not going to be there to do it for him. His belly is very big and hard and that made doing his PT very difficult and painful for him.
4/7/10: I'm starting to get a bit peeved at how slowly things are moving at the hospital. I'm not seeing that they're making much effort to get Jerry on his feet and back home. In fact, the impression that I'm getting is that Jerry will probably be there for quite some time. I don't know what happened to the rigorous physical therapy that they told us about the day of his surgery. The most Jerry has done is stand for a minute a couple of times just to get into a chair or wheelchair. The doctor had also talked of tapping the fluid from his belly a few days ago and that hasn't been done yet and is making Jerry pretty uncomfortable. I guess they forgot about it. They put a portable commode in Jerry's room a couple days ago but I've seen no effort made to get him to use it. He's still using a bedpan. Another thing I've noticed is that Jerry is flat on his back most of the time that we're there and his bedsore is still pretty bad. You'd think that they'd work harder to get him out of bed to at least get that thing healed.

I got a call from the transplant social worker yesterday and she suggested that I call the company (Astellas) that makes Prograf (the anti-rejection drug Jerry is taking) to get on their assistance program. I did call them and so far we've passed the "pre-screening" process and they're going to mail us an application. Apparently we've lost the fight with Blue Cross already, or they never bothered to try. They are going to make us pay the difference in the cost between the brand name and generic version of the anti-rejection drug that Jerry will have to take for the rest of his life. She said that Jerry's meds will run us about $400 per month and $200 of that is just for the Prograff. If Jerry can get on the Prograf assistance program, Astellas will cover the full cost of it, at least for a while. Hopefully Jerry will be able to get on the VA prescription plan and be able to get his meds for just $8 each. I think that next year Jerry should switch to another insurance company that will cover ALL of his meds without any extra fees.

An occupational therapist did come in yesterday to evaluate Jerry's condition. She had him sit up on the edge of the bed and take off and put back on his socks. I think that I'm going to have to tell Jerry to be very assertive and ask for as much therapy as they'll give him. Right now he seems content to just sit in bed and be waited on. Now that he's so much more alert I hope that he'll get frustrated enough to fight to get himself out of the hospital as soon as possible and not depend so much on me to get things done on his behalf.

Jerry keeps talking about all these goals and dreams he has of things that he's going to do when he gets out of the hospital such as playing golf and buying a motorcycle. What Jerry needs to do is face the reality that right now his goal should be to be able to walk and do things for himself again. The reality is that we're not going to have money for expensive sports like golf and he's going to have to buy a cheap, practical car to get to work in, not a frivolous motorcycle. Reality will be trying find a way to come up with enough money to pay $400 month for his Blue Cross coverage, $400 month for his meds, over $900 month for our rent, goodness knows how much for all of his future doctor visits and the gas and parking to get him there and then hopefully still have enough left over to buy food. Eventually Social Security is going to expect Jerry to go back to work and his Disability payments will stop. He'll probably get about a year of Disability and then they'll start urging him to look for work. Jerry should focus on getting back on his bicyle for recreation and exercise which won't cost him anything.

Jan and I saw Jerry's incision yesterday and it's pretty impressive. It's kind of "Y" shaped and has hundreds of staples in it. They don't have it covered with any kind of a dressing. They just set some tissues over it and then put a tight band around his torso to hold everything together and prevent hernias.

They're still giving Jerry insulin and I think it's crazy that the diet they're feeding him right now is probably 80-90% carbs and sugar. Most of his meals consist of a Boost nutritional drink which is mostly sugar water, apple juice, fruit ice, pureed vegetable soup, saltine crackers and ice tea. Last night they brought him a tray with slightly more solid foods on it but they were things such as chicken noodle soup (very little meat), mashed potatoes (most likely instant), applesauce and jello plus all the other things that usually came on his liquid diet trays. I don't know how Jerry is supposed to get his strength back eating so little protein and mostly sugar. The nurse said that Jerry's morning blood sugar reading is usually around 99 but around supper time last night it had gone up to about 189 so they gave him insulin. I sure hope that they're going to start bringing him some real food soon and cut back on all the sugar.

It looks like it's time to start getting pushy with the hospital staff and have a pep talk with Jerry about doing his part to get himself back on his feet.
4/6/10: I forgot to mention earlier that last Friday was the first pay period that Jerry didn't receive a donated paycheck from Performance. All in all, the people from Performance Bicycles donated a total of 704 hours to Jerry or nearly 18 weeks worth of pay. We will have no income between now and the end of May when his Disability checks start coming.

When Jerry's sister and I got to the hospital Sunday morning, Jerry was still in ICU because they didn't have a bed for him yet on the transplant floor. We stayed with him for the 30 minute 10:00 am visitation and decided to hang around the hospital until they moved him to the transplant floor. It ended up taking them the whole day to find Jerry a room so it was about 5:00 before we saw him again on the 12th floor. We'd spent a very long, boring day sitting around waiting to hear that they'd moved Jerry but we found some comfy chairs to sit in down in the main lobby of the hospital. Jerry's new room on the 12th floor is a nice, big room similar to the one that he was in on Thursday before the surgery. There's a sign on the wall in Jerry's new room that says that he can't go home until he's able to walk 6 laps around the ward without stopping.

While we were sitting in the lobby waiting, we started seeing people enter the hospital with dogs on leashes. It quickly became obvious that they were some sort of organization because they were all wearing the same T-shirts. Eventually there were about 8-10 dogs gathered around the lobby. They belong to a group called Caring Critters and they come to the hospital every other Sunday and cheer up patients by taking their dogs around the wards.

Before we got the hospital Monday morning we stopped at the VA hospital down the street to drop off Jerry's application for medical benefits and prescriptions. They said that we should hear something from them in about 30 days. If Jerry can get on their prescription plan, they will only be $8.00 each. Currently Jerry pays between $15-40 each with his Blue Cross insurance for prescriptions. I believe that the VA also has a maximum yearly out-of-pocket for prescriptions of $960 which we could easily reach within a few months considering that Jerry will probably have at least 15 prescriptions filled each month.

Jerry has been on a heart monitor since sometime on Sunday because his heart rate is a bit low. He's still on a liquid diet but they're giving him creamier soups with pureed vegetables in them now and saltine crackers. He seems to be tolerating food well. Most of Jerry's IV's have been disconnected now and his catheter has been removed. Yesterday morning before we got there they'd had him sit in a chair for a while.

We found out on Monday that Jerry is on insulin because the Prednisone that he's on causes his blood sugar to go very high. While we were there the nurse had Jerry give himself a shot of insulin. He had to measure the dose himself and inject it into his stomach. He said it didn't hurt. The nurse said that she thinks that Jerry probably will be off the insulin by the time he goes home because his blood sugar isn't all that bad. She said that they have them take insulin if their sugar goes above 150. When they tested his blood in the afternoon it was 165. As they gradually lower the dosage of the Prednisone, his blood sugar should go down.

Jerry is still having fluid building up in his belly since the transplant. It looks like he will have to have the fluid tapped about twice a month for a while until it goes away for good.

Jerry's sister and I were in the hall outside Jerry's room waiting while the nurses cleaned him up yesterday afternoon and we saw a couple of men down the hall with walkers making the rounds of the ward. When they approached us we struck up a conversation with them. They are both waiting for heart transplants and one of the guys has been there for three months now. They were very nice and it occurred to us that it would be nice for Jerry to meet them. He'd have someone to chat with during times when we're not there and they could encourage Jerry to get out of bed and do laps with them. They said that they've got four guys that they usually make the rounds with so Jerry will make a fifth once he's on his feet. I think this is just what Jerry needs to get him up and about more quickly. The great thing is that both of them are interested in motorcycles so they'll have something in common to talk about.
4/3/10: Here is the full version of the events of the past two days:

The call about the transplant came about midnight Thursday night and Nick, Jan (Jerry's sister) and I got there around 2:00 Friday morning. Who would have thought that Jerry would get a transplant less than two weeks after being put on the list??? We never expected it, that's for sure. It's mind-boggling how fast everything happened. We hardly had time to think about it and then it was over. One amazing thing that we learned that morning is that the doctor had just taken Jerry off the "Not ready for transplant list" late on Thursday because his infection had cleared up and his blood pressure was stable. The was only hours before a liver became available. If the doctor hadn't done that when he did, someone else would likely have gotten that liver.

The surgery started at 7:00 am and they were finished by about noon. They'd told us that it could take 6-8 hours but everything went so smoothly that the were done sooner. A nurse came into the waiting room at intervals throughout the morning to give us updates. First she told us that they were removing the bad liver, then later she came in to say that they were nearly finished attaching the new one. The doctor told us that they also removed his gallbladder and that he didn't notice anything wrong with it but they will test it to be sure. They always remove the gallbladder during a liver transplant in any case.

We were told that only two visitors were allowed to see Jerry in the recovery ICU but when the time came they said that all three of us could go in. They also said that we'd only have five minutes with Jerry but we were with him at least 15 minutes and they never kicked us out. Jerry couldn't talk because he was on a ventilator but he did shake his head "yes" or "no" when he'd answer our questions. I asked him if he could see us and he shook his head "no" even though his eyes were open. The doctor said that Jerry probably wouldn't remember anything by the next day and he didn't when we asked him about it today.

While Jerry was in surgery, several people from the transplant team came to speak with us in the waiting room. We spoke to the financial person as well as the pharmacist and one of the coordinators. The liver team's pharmacist said she's going to fight the insurance company, if necessary, if they try to make Jerry pay extra for his anti-rejection meds. She has had success with that, she told us. She also suggested that he try to get on the VA prescription plan, which we intend to do.

Jerry will receive aggressive physical therapy to get him back on his feet and functioning totally on his own before they'll send him home. They think that Jerry might go home as early as next Wednesday depending on how well he's doing. Once he gets home, they said that he's to receive no help from us to do things.

As long as they keep Jerry in ICU, visiting is for only 30 minutes at a time and spaced out during the day. So, we'll only go down there for one session per day until they move him to a regular room. Once they move him to a regular room in the liver ward, there will be normal 24-hour visiting hours. Today we went for the 10:00 am visit.

When we got there today we heard that Jerry's ventilator was removed last night and the feeding tube in his nose was removed this morning. His mouth was a bit swollen on the one side where the ventilator tube was resting against his jaw, but that will go down. The discoloration of his skin from being jaundiced is already fading. You can especially notice it in his eyes. The nurse said that they will probably move him on Sunday to a room in the liver ward. We'll go for the 10:00 am visiting session and stick around if it looks like they might be moving him soon. We asked when Jerry would get to eat again and the nurse said that she'd ordered him a lunch tray for today. He'll be on a liquid diet at first though.

On Monday we will most likely stop by the VA to drop off Jerry's application for benefits. We drive right past there on our way to the hospital. If they've moved him to a regular room by then, we will probably run over there when we take our lunch break. The transplant team's pharmacist suggested that taking the application in person is usually more effective than faxing it to them. She also told me that it's common for family members to apply for someone who's in the hospital.

Once they let Jerry come home, I will have to stay here with him 24 hours a day. I will only be able to leave the house if Nick is here with Jerry. The "24 Hour Care Plan" will be in effect for at least a month after he comes home. The coordinator said that we might be able to get a physical therapist to come to the house instead of us having to drive downtown. That would help a lot since we'll already have to drive down to the hospital for blood tests twice a week for a while. We've been using a lot of gas getting there and what they charge for parking is outrageous. It usually costs at least $8.00 each time.
Later 4/2/10: I am soooo tired but I wanted to post a quick update before I crash. I've been up since midnight last night. Jerry's liver transplant went very well and he was out of surgery by about noon. We got to see him in recovery for about 10 minutes. Visiting times are very limited until he gets moved to a regular room in a couple days and we'll go back to visit him for 30 minutes tomorrow morning. Thanks everyone for your prayers which helped make this all possible. I'll post more details when I can but right now I need to rest. Everything happened so fast that my head is spinning.
4/2/10: We got a call at midnight to let us know that there is a possible liver for Jerry. They are prepping him for 7:00 surgery this morning. We're leaving for the hospital now. Please keep praying!
3/31/10: They finally got Jerry's blood pressure stable enough that he's off the medication. So, they are planning to move him out of ICU and into a regular room on the floor where the other liver patients are. They're just waiting for a bed there. The doctor said that once he's over there, they will work on getting him back on his feet. The doctor told us today that he is concerned about something. The other day they saw a spot on his gallbladder and they think it could be cancer. Apparently it's not uncommon for people with liver disease to get that sort of cancer spontaneously. Unfortunately, if it does turn out to be cancer, Jerry won't be able to get a transplant. It will probably be a week or so before they can do the tests to see what's on his gallbladder because the tests could further damage his kidneys. They have to wait until his kidney function is good enough to withstand the testing.

Jerry received a big stack of eGreetings yesterday which I read to him. Thanks to everyone who sent one. He enjoyed hearing me read all of your get-well wishes.
3/30/10: After playing phone tag most of Monday morning, I finally got a return call from the case manager at the hospital. She said that she is handling the insurance "certification" so that Jerry can stay there longer as needed. He is certified now for another five days until this Friday. She said she will let me know if there comes a time when Blue Cross decides that they won't cover any more days in the hospital.

Today I got a call today from the case manager at Blue Cross who I left a message with yesterday morning. She was very nice but she couldn't discuss much with me because they still haven't received the authorization for disclosure form that I mailed to them last week. However, I told her that I have a PDF file of the Medical Power of Attorney that Jerry signed so I emailed that to her. She will call me back once she receives it. One thing that she did tell me was that if for some reason the hospital ever fails to request an extension on Jerry's stay in the hospital, they can't bill us for any uncertified days. That's a load off my mind.

It was suggested to me that we might be able to get some help from the American Legion to get Jerry some VA medical benefits, in particular the prescription drug program. I found an email address for a Department Service Officer who's with the Houston American Legion and asked if he could help get Jerry enrolled without having to leave the hospital. Otherwise Jerry would have to somehow get to the VA building to sign up and have an ID card made. Even if Jerry ever does get to leave the hospital, it would be very difficult to get him to the VA to enroll in his condition. Anyway, I did hear back yesterday from the man at the American Legion and he forwarded my email to a man at the VA hospital downtown in Houston. He wants me to send him Jerry's VA benefits application and DD214 (military discharge). Jerry had already partially filled out an application a while back but they've since changed the form slightly and Jerry's insurance company and job status have changed since then as well. So, I filled out the new form and had Jerry sign it last night. I'm waiting to hear back from the man with a street address that I can mail the documents to. He only gave me a fax number and we don't have a fax machine. If I don't hear back from him today, I will find some way to fax the documents to him.
3/28/10: When Nick and I were about to leave the hospital last night the nurse said that they might move Jerry to another room in a different ICU. The ICU where he currently is staying is for stroke patients. They only put Jerry in there because it had the only empty bed at the time. The nurse called early this morning though and said that they didn't move him after all but they're going to give him some blood this morning and also do another paracentesis because his belly is getting so huge again. They just did one of those on Wednesday and removed nearly four liters of fluid. They had to call and get my consent for the paracentesis and blood transfusion this time because of Jerry's poor mental status this morning. Nick and I saw the four big bottles of brownish fluid on the window sill in his room yesterday and wondered what they were until the nurse told us it was what they removed from his belly the other day.

Jerry was quite alert last night and talking pretty normal. It was quite a change from the way he was on Friday. It turns out that his blood pressure isn't quite as stable as they'd like yet so they did give him some meds for it temporarily again and they're still giving him albumen. He's also still on one of the antibiotics for his infection. I must have misunderstood what the doctor said about that the other day. Many of his doctors and nurses don't speak great English.

Please pray extra hard for Jerry. He's been having some panic attacks. He said that he'll suddenly feel intense fear come over him. It usually passes if someone holds his hand for a little while.

On Monday I will have to call Blue Cross. I got a letter in the mail from them yesterday saying that Jerry's five allowed days in the hospital are up on the 28th. The letter says to call prior to the expiration date, which is today. I'm not sure how I was supposed to do that when I didn't get the letter until Saturday and they're not in the office until Monday. I'm not even sure if they'll talk to me about Jerry's case. I did have Jerry sign a consent form in order for me to speak on his behalf with Blue Cross but I don't know if they've received it in the mail yet. I think I mailed it last Monday. Obviously Jerry can't call Blue Cross himself so hopefully they won't give me a hard time. I have a feeling that we're going to end up regretting that Jerry chose to go with an HMO this year. There is no out-of-pocket maximum per year and we have to go through all kinds of hassles every time Jerry needs to see a doctor other than his PCP. What really stinks is that the HMO premiums are more expensive per month than the other plans Jerry had to choose from and yet the benefits don't seem to be so great if you actually get very sick and need to use them. We may also be up a creek after Jerry's transplant if they won't cover his anti-rejection medications because he won't be able to use the generic versions. The transplant doctors won't allow the generics so we may have to pay the difference in cost between the generic and the regular version. Those two meds cost over $1,000 per month.

Jerry's sister, Jan, will be coming here on Tuesday afternoon and is staying through Wednesday, April 7. It will be good to have some moral support.
3/27/10: It's hard to believe that Jerry has already been in the hospital for a week and he's already been downtown at St. Luke's for longer than he was at Houston Northwest. The other day I was looking at some information about liver transplants and MELD scores online and a few sites mentioned that those with type "O" blood usually have to wait a bit longer for a liver. I didn't know what Jerry's blood type was so I asked the nurse to look it up for me yesterday. He's type O+ and I'm type A+ so we don't match. The transplant packet that we got in the mail the other day urges us to have friends and family with Jerry's blood type donate blood to be stored for his liver transplant surgery. I don't understand why type O blood types would have to wait longer since it's the most common blood type unless it's because there's a greater demand for that type. Jerry has had at least three transfusions since he went to the hospital for the first time back in October and no one has mentioned having trouble getting blood for him. I guess you can't believe everything you hear on the internet even if they are medical sites.

Jerry was so out of it yesterday that I wasn't sure if he would even remember by today that I was there. However, he did snap out of it briefly and said that he was glad that I was there. We watched several episodes of Cash Cab on TV and Jerry even gave an answer to one of the questions. Mostly he didn't say much at all though. It wasn't that he was sleepy, his brain was just foggy. Whenever the nurse or I would ask him a question his eyes would quickly dart back and forth as he was trying to take in what we were asking him. It would take him a minute just to say "yes" or "no" and we didn't get much more out of him than that. A few times his lips would just move to answer but no sound came out. Apparently Jerry's ammonia level is pretty high again which is most likely the cause of his mental status. They have him on Xifaxan as well as Lactulose to try and get the ammonia level down. The doctor did say that he's finally off the blood pressure medicine and his BP is stable. They're going to try and wean him off the albumen today if possible. His infection is pretty well cleared up now and he's off the antibiotics. They did have to give him some blood on Thursday because they said it was a bit low. Hopefully this doesn't indicate that Jerry is bleeding somewhere. They've put in central lines in Jerry's shoulder and one wrist so that they won't have to be constantly poking him with needles. The nurse also said that the thing they put in his wrist gives more accurate blood pressure readings than a cuff-type blood pressure monitor. Also, Jerry is back on solid food again.

Dawn in Columbus Ohio: If you're reading this, thank you for your nice email to Jerry in the hospital. Since we don't know anyone named Dawn living in Ohio, I can only assume that you're one of my low carb friends. I had no idea that it was possible to send an eGreeting to someone in the hospital so I checked St. Luke's website last night and, sure enough, there's a link for sending an eGreeting to a patient. From the main page look under "Patients & Visitors". There's a link for "eGiftShop and eGreeting".
3/25/10: UPS delivered Jerry's transplant pager this afternoon so I guess it's really official that he's on the list. I had to call the pager company because the thing didn't come with any instructions and I didn't know if it was activated. I didn't see the manual for that model on their site so they told me where to find it. Turns out that it is activated already but I'm not sure if I need to set the date and time in order for it to work properly. I need to call the transplant office and give them the pager number tomorrow. They'd already gone home for the day when tried calling them this evening. The woman at the pager company was really nice and actually said that she would pray for me and Jerry.
3/24/10: My son and I got to the hospital a bit late last night because we had a heck of a time finding it. I don't really know much yet about what the doctors have planned for Jerry. The nurse on duty last night said he doesn't usually work on that floor so he didn't know much. He did say that they're planning to do another Paracentesis to remove fluid from his belly, today I think. They have Jerry off solid food again until they can get his blood pressure stable and they have him on Xifaxan to keep the ammonia level down. He's still on antibiotics for the infection in his blood.

St. Luke's isn't nearly as nice and modern as Houston Northwest. Jerry does have a private room but it's about half the size of his room at the other hospital. They do have three visitor chairs squeezed in there at least and he does have a TV.
3/23/10: They transferred Jerry to St. Luke's sometime in the middle of the night last night. I got the call around 11:30 pm that they would do the transfer in about an hour. I don't know anything else other than that he's in Intensive Care.
3/22/10: A lot has happened today. They still haven't been able to get Jerry's blood pressure stable. The nurse said that whenever she'd try to take him off of the meds they're giving him, his BP would drop within five minutes to about 84. Once they had gotten his BP stable the case manager was going to work on having Jerry transferred to an LTAC hospital (Long Term Acute Care). She had also been in contact with the transplant coordinator this morning and had arranged to have Jerry's latest labs faxed to her. No sooner had the case manager gotten started on the LTAC arrangements when she got a call from the transplant coordinator who said that they want to have Jerry transferred to St. Luke's which is the transplant hospital. They want to be able to take over Jerry's care and be able to monitor his situation themselves. But wait, there's more. Jerry was officially placed on the transplant list today and his MELD score has jumped to 28. After the last evaluation in December his score was only 17. His score is now high enough to put him pretty high on the list. I think they told us last November that they start doing transplants on people with MELD scores of about 24-26 and higher.

So, it looks like things may start moving rather quickly now, but of course that depends on the availability of a liver and how many other people are higher on the list than Jerry. When I left the hospital this afternoon they were still working on getting approval from St. Luke's to transfer Jerry from Houston Northwest and then they have to get approval from Blue Cross. The case manager will call me as soon as she knows if everything has been approved. I don't know yet when they will transfer Jerry to St. Luke's if everything is approved.

I told Jerry what was going on but I'm not sure how well he comprehends it all. I asked him to repeat to me what they'd told us and he repeated most of it pretty accurately except that he thought the transplant hospital was called St. Thomas. It's hard to tell what Jerry is thinking because he doesn't say much and he doesn't seem to show much emotion. I think he's in a sort of dream-like state where fantasy, old memories and things that are happening right now are all mixed up together and confused. I think that he knows I'm there with him at the hospital but there is no conversation and very little communication. I basically watch him sleep and feed him when they bring his meals.
Later 3/21/10: The doctor who I spoke to today said that he and the rest of the staff are going to do whatever they can to help get Jerry on the transplant list ASAP. Jerry was a bit more alert today and a little more talkative. They let him have lunch today and he ate a some of his chicken, rice, carrots and all of his pudding.

It turns out that his setback on Friday was due to an infection either in his blood or the fluid that was filling his belly. They're still trying to determine where it came from and what kind of bug it is. For now he's on antibiotics but they have to be careful with those because they can cause his kidneys to get worse. He's still on the BP meds and they gave him albumen today but I'm not sure what that's for. He'll be in MICU at least through Monday and then they might send him to telemetry from there. If he does well then he will either go to a regular room, or a rehab place (I forget what the doctor called it) if Jerry's insurance will cover that. I will speak with the hospital case worker tomorrow about that as well as what to do when I bring Jerry home.
3/21/10: When I got to the hospital yesterday morning they had gotten Jerry's BP pretty much stabilized but they haven't been able to wean him off the BP meds yet. I spoke to the doctor yesterday morning and he said that Jerry's kidneys are starting to fail. I don't know how that will affect his chances of getting a liver transplant. At this point I think he may be too thin and too weak to still be a candidate for transplant. On Monday I will call his PCP and also the transplant coordinator to discuss what we should do next. I have a feeling that it might be time to make Jerry comfortable and arrange for Hospice care at home. Because this all happened over the weekend, I haven't been able to contact the doctors about Jerry's hospitalization. This morning they will be doing Paracentesis to remove excess fluid from Jerry's belly. Over the past few weeks it had been getting big again even though he doesn't seem to be retaining fluid in other parts of his body like he was last fall.

I want to thank everyone for your encouraging emails, donations and prayers for Jerry. I will answer them when I can but it might be a while before I have a chance to do so. Things are pretty hectic at the moment.
3/20/10: I called the hospital this morning to find out where they moved Jerry to and the nurse said that Jerry doesn't appear to have a head injury but they're trying to get his blood pressure up. He kept saying that they were trying to get Jerry to "have a blood pressure", so apparently it was really low. They will keep him in Medical Intensive Care at least one more night or until his blood pressure is stable and then they'll determine if he can go home or move to a regular room.
Even later 3/19/10: This afternoon Jerry called to me from the bedroom to ask me some really crazy questions. He asked if there should be a mechanism under him with some kind of swirling blades and later he asked if there used to be spots on the ceiling fan blades over his bed. He kept asking crazy things like this and it was apparent that he was hallucinating and having delusions. I tried calling the doctor's office but they were closed by that time. So, I called a relative who's a doctor and he said that I should get Jerry to the hospital. If he did have a head injury from hitting the coffee table he needed to be seen by a doctor. Since I couldn't get Jerry into the car by myself, I had to call 911 and have an ambulance come. My son and I sat with Jerry in ER for a few hours but it was getting late so we came home. The doctor had seen Jerry before we got there and they'd done a few tests but he never came in while we were there so I couldn't talk to him. They're admitting him sometime tonight but we haven't heard yet what was causing Jerry's confusion. The nurse did say that his potassium is very high and his sodium very low and those things can cause mental confusion. I guess we'll find out tomorrow what's up. I'm really tired and need to get some sleep now.
Later 3/19/10: Jerry was doing so well this morning. He got out of bed on his own and used the bathroom, etc. After lunch he wanted to go take a nap so he got up to walk to the bedroom. I just left the room for a second when I heard him yell as he was falling. He hit his face on the coffee table and landed on the floor. He has scrapes on his face and both arms. There was quite a bit of blood on his arms but there are no deep cuts or anything like that. I'm home alone and I tried to get him off the floor with no luck. Jerry managed to slide himself from the living room into the bedroom and I then somehow managed to pull him up and then roll him onto the bed on his stomach. Somehow I got him turned over and settled under the covers but now I don't know what I'm going to do anymore. I can't take care of him alone and he can't attempt to get out of bed anymore at least not when I'm alone with him. I called his doctor but he's out of town until Monday. The nurse will send him a message to call me when he gets back. I'm not really sure if we have any options at this point though. He's not really sick enough to stay in a hospital and our insurance doesn't cover a nursing home or anything like that. Having someone come in a couple times a week won't help me take care of Jerry the rest of the time when I'm here alone with him. Jerry is wearing Depends all the time now but I've never had to change one with him lying in bed before. I guess I'll have to figure that out when the time comes because I can't let him attempt to walk to the bathroom anymore. My mind is numb right now and I don't know what we're going to do at this point.
Added on 3/19/10: Frozen Mochaccino Protein Shake
3/19/10: Jerry did get another donated paycheck today from Performance but it was for only 64 hours instead of 80. I think that probably means this will be the last paycheck that he'll get until his Disability begins at the end of May.

Yesterday I took Jerry for some blood work and used the transport chair (which is a light kind of wheelchair) for the first time other than just around the house. I had no trouble lifting it into the backseat of the car.

We just found out something rather shocking. We found out that Jerry isn't actually on the liver transplant list yet. When he went for the evaluation back in November that was just to determine if he was sick enough to qualify for a transplant. We knew that but then they told us that we'd receive a certified letter letting us know whether or not he was placed on the list. We received that letter back in December but now it turns out that the letter was just to let us know that he will be placed on the list at a later date, not that he had been put on the list. No one ever told us that back in November. I spoke to the transplant coordinator but couldn't understand most of what she was telling me. Mainly what I got from our conversation was that they did get approval from Jerry's insurance company for a transplant (we knew that because we'd gotten a letter from Blue Cross a couple months ago) and that Jerry would have to have more testing done before actually being placed on the list. She said that she would call us once he is officially on the list but I have no idea when that will be or how much testing Jerry will have to have done before that. It's all very confusing because no one seems to be communicating with us or each other very well through this whole process. It's so frustrating to hear one thing from one person and something completely different from someone else. It's the same sort of run-around and misinformation that we got with Social Security about Jerry's Disability. All we can do is wait and see what really happens. Hopefully Jerry won't be too sick to get a transplant by the time they finish the process. His hepatologist did say a couple weeks ago when he saw him that they won't do a transplant on Jerry unless he gains a lot of weight. He's too weak in his current condition to survive such a major operation. I don't know what we can do to make Jerry gain weight when his body isn't making use of the food that he's eating. I do my best to try and get Jerry to eat as much as possible but I can't force him.
3/18/10: Update on Jerry: I just realized that I hadn't posted an update to let everyone know that Jerry is doing much better. I think that the Lactulose must have started to work by Tuesday morning. Either that or all of the prayers you've all been praying did the trick. Jerry actually got out of bed by himself in the middle of the night to tell me that he needed to use the bathroom. On Tuesday, he was feeling so much better that he walked a couple of "laps" around the house. His head had cleared so much that he was able to make some phone calls and later he shaved and cleaned himself up a bit. I'm surprised that he remembered anything that had happened on Monday but he told me that all day that day he'd been seeing psychedelic lights around everything. That must have been the ammonia affecting his brain.

Jerry is still very weak and he has fallen at least once or twice every day for the past few days. I don't know what I'll do if it happens when our son isn't home. Although Jerry is very thin, he's still quite heavy for me to lift and I'm not all that strong. Thank goodness that he can still walk most of the time or I don't know what I'd do. He seems stronger at times and then a short time later he'll barely be able to stand on his own. We're waiting for a call about having a walker delivered. Hopefully the walker will help Jerry be able to get up on his own and move more safely around the house. I wish that there was some way that I could get someone to watch Jerry once or twice a week so that I can get out of the house for a break. Our son works long hours and is rarely home long enough to do that for me. I did go to the grocery store this morning and had Jerry stay in his bed while I was gone with strict orders not to get up for any reason and everything went fine for the hour or so that I was gone.
3/15/10: Another update on Jerry: Jerry is going downhill very quickly. When I took him his 5am meds this morning he sat right up in bed and took the glass to drink it. At 11am, he didn't know how to sit up and our son had to prop him up and then we had a hard time getting him to take the glass in his hand. It's a good thing that we got the Depends last night because he's lost bladder control today. I found that out when I took him to the bathroom a little while ago. He's also having difficulty walking today so we're using the transport chair to wheel him around the house. He's sitting at the table right now eating but it's a struggle to get him to keep at it. I have to keep reminding him to take a bite. I baked some oatmeal raisin cookies this morning (not low carb) and he did eat two of those and a piece of bacon. He's working on some sauerkraut right now. Hopefully having some food in his belly will bring him around a bit. He was really scaring me a little while ago when it seemed like he didn't know anything that was going on.
3/15/10: Update on Jerry: I'm getting pretty discouraged. It looks like I won't be able to look for a job after all. Jerry's condition has deteriorated to the point where he can't be home alone for more than a couple hours at a time. He also can no longer manage to take his meds on his own and can't prepare food for himself. I even have to cut his meat for him now. On top of everything else, the medicine that the doctor prescribed to get the ammonia level down is making it difficult for Jerry to get to the bathroom in time to prevent a mess. Lactulose is a laxative but it apparently works well for the ammonia problem in liver disease patients. The laxative side effect makes it necessary for Jerry to use Depends. I haven't seen much of a change in Jerry's mental confusion yet but hopefully taking the Lactulose will be worth putting up with the side effects. Things are very stressful for me so I could use your prayers. Seeing how quickly Jerry is going downhill makes me wonder if he'll even live long enough to get on Disability at the end of May let alone live another year or more to get a liver transplant. Once the Disability payments start in May, we'll at least have some income once his donated sick pay stops but it won't be nearly enough to pay the bills every month.
Added on 3/6/10: Strawberry Panna Cotta
I added an update to the Better Than Boxed Low Carb Pancakes recipe on 3/4/10.
3/1/10: Update on Jerry: I have a little bit of good news. Last week Jerry had an appointment with a neurologist to have an EMG test done on his leg. He'd been having some weakness in that leg and was dragging his foot when he walked. By the day of the appointment, the leg was pretty much back to normal so they canceled the test. However, the results of the blood work that was done the week before that appointment showed that Jerry's ammonia level is very high. This causes him to have a lot of mental confusion. Lately he's been saying and doing a lot of strange things and that explains why. I have to watch him all the time and he has strict orders not to use the stove or toaster oven if I'm not home. Jerry's sister and her husband were here for a visit the weekend of Valentine's Day and they gave Jerry a transport chair. It's like a wheelchair but much lighter so that I can lift it into the car when we go somewhere. I haven't had a chance to try it out yet but the other day I took Jerry shopping at Walmart and he had fun riding one of their electric scooters. Jerry also went to see the liver specialist last week and he wants him to have an MRI of his liver soon to see if anything has changed. Jerry said that he's not losing any more weight but it's obvious that he's not gaining weight either. He has no fat or muscle left to lose. The doctor stressed to him how important it is for him to eat several times a day but I'm not sure how well that has sunk in yet. That same doctor just prescribed something to lower the ammonia in his blood and Jerry can't eat for two hours before or after taking it. That really limits how much eating he can do during the day. I'm not sure how Jerry can get in the eight meals per day that the doctor recommends when he has to take that medicine three times a day. I'd also like to mention that Jerry has continued to receive donated sick days from the generous employees of Performance Bicycles for the past three or four months. We don't know yet when that will stop. We will find out this Friday if he will get another donated paycheck. I'd also like to thank everyone again who has donated money to this site. It touches my heart to know that so many people care about me and Jerry.
Added on 2/14/10: Individual Pizza with Pork Rind Crust
Added on 2/23/10: Better Than Boxed Low Carb Pancakes
Added on 1/27/10: Peanut Butter 3 Minute Cake
I added a new Pizza category in the Pork & Lamb Recipes section on 1/24/10.
1/24/10 Update on Jerry:
We got some good news in the mail yesterday. Beginning this year, Jerry had to switch to a new insurance company now that he's no longer working for Performance Bicycles. The clinic that he usually goes to for routine visits is within the system of that new plan. However, the doctors and hospital where he'll go for his liver transplant are not in the system for that HMO. Jerry had to have his general practitioner send in referrals for all of the specialists, etc. that he'll need to see so that his insurance will cover everything. The letter that we got yesterday said that Blue Cross has agreed to cover his liver transplant.
1/23/10 Update on Jerry:
It looks like all of the Disability confusion is finally cleared up. There have been a lot of misunderstandings between us and the people at Social Security about when Jerry will actually start getting Disability payments. We were under the impression that they were expediting his case because of his terminal illness and that he wouldn't have to wait the usual five-month waiting period before getting payments. That's where we were misinformed. EVERYONE applying for Disability has to wait the five months before getting paid. It turns out that what they were expediting was the approval process so that Jerry wouldn't have to be out of work for five months before applying for Disability which would mean waiting even longer than the five months before getting any Disability checks. The other day we received the notice that he was officially approved for Disability benefits beginning in April with the first check coming near the end of May. His five-month waiting period started one month after the first time he went to the hospital or around the first week of November.

For now Jerry is still getting donated sick pay from his old job but we expect that will stop soon. So far the generous people at Performance Bicycles have donated 12 weeks of their sick pay to Jerry at a full 40 hours per week. He just got another paycheck on January 22nd. Once those paychecks stop coming in, we will have no income between then and the end of May unless I find a job before then.

This is what it says in the booklet we got in the mail the other day along with his approval letter:

"Under the law, your payments cannot begin until you have been disabled for at least five full months. Payments usually start with your sixth month of disability."

Last week we got a letter from Social Security about setting up an account online for direct deposit, etc. which added to our confusion about when his checks would start coming. When I first read it, it sounded to me like he would get his first Disability check before the end of February but after re-reading it and I realized that's not what they are saying. Here's what it says:

"If you are a new beneficiary, please make sure you have received your notice of benefit payment or your first payment before you try to register a password."

The letter that we got the other day that says his payments will start in May is the "Notice of benefit payment" that they're talking about. I guess that answers all of our questions and he really won't get any checks until May. What added to our confusion was that several different people at Social Security told us that because of Jerry's terminal condition he would get Disability payments as soon as he was approved and that he wouldn't have to wait the five months. How were we to know who was right and who to believe when the people working there don't even know what's going on or what the rules are???

As far as Jerry's condition goes, he saw a neurologist this week about his hands shaking and because he's not able to use one of his legs properly when walking. The doctor said that shaking hands are a symptom of his liver condition. Jerry will go for some tests to determine what the problem is with his leg. The doctor thinks he may have nerve damage in that leg but he doesn't know why. Jerry continues to lose weight no matter how much he eats. When he weighed himself a couple days ago he was down to 138 pounds. Not much else has changed with his condition lately.
Added on 1/22/10: Crispy Fried Fish
Added on 1/18/10: Not Cake
I added another new product to my Products & Ingredients section on 1/16/10: Dixie Diner Angel Food Puffs
I added a new product to my Products & Ingredients section on 1/9/10: Dixie Diner Chocolate Cookies
Added on 12/25/09: Breaded Chicken Cutlets
12/18/09: Jerry's condition has been stable for a while and he's feeling much better since the fluid in his legs has gone away. He's still very weak though and has some problems with concentration and remembering things but that's typical with his condition. So, we're pretty much just waiting now and not much has been going on. We finally got the official letter about his transplant listing the other day and it was a little disappointing to see that they've lowered his MELD score from 22 down to 17. They told us at the transplant evaluation that it was 22 so we have no idea why it would have changed. It might be a long time before Jerry gets high enough on the list to get a transplant. We're also still waiting to hear about Disability. The last we heard it would probably be another six weeks before we know anything about that.
Added on 12/18/09: Broiled Skillet Pizza
12/16/19: I made some changes to the tip on my Time-Saving Tips page about measuring crushed pork rinds. After weighing and measuring them again to use in a recipe next week, I came up with different figures than before for some reason. I don't know if different brands make a difference or perhaps it's the humidity, or lack of, at this time of the year.
Added on 12/8/09: Pork & Mushroom Stir-Fry
Added on 12/6/09: LC Honey Mustard
12/4/09: Jerry went to the hospital today for another EGD (varices banding procedure). The doctor didn't find any more varices to band and he said that Jerry shouldn't have to go back for this procedure again. Now we just sit and wait for Jerry's MELD score to get high enough for him to get his transplant. His MELD score is currently 22 and it needs to get closer to 30 before he'll get high enough on the list. The doctor who he saw last week said that it typically takes from six months to a year to get a transplant.

Here's some good news. Jerry got a full paycheck for the last pay period because of the donated sick days. He will also get a paycheck next week because people at the store where he worked have donated another eight days. There could be more from other stores around the country as well but we won't know until we see the check. Please pray that Jerry might get enough donated sick days to keep getting paid until the end of the year when his job will be terminated. As long as he continues to get a paycheck, we won't have to pay for our insurance out of our pocket. We also hope that his disability payments will start by the time the pay from his job ends but that process seems to be taking forever.

Jerry has been feeling a lot better lately now that most of the swelling from fluid is gone. He's lost another 10 pounds now and even his belly is finally starting to shrink. He only weighs 160 pounds now (he's 6'2" tall) so he's trying to eat as much as he can to try and put some fat and muscle back on his body. Even though he's very thin, and has lost almost all of his muscle, he's a lot more mobile now without having to carry around 40-50 extra pounds of fluid in his legs. The weather was sunny and warmish yesterday so he went for a little walk down our street. Today it's snowing here in Houston! We've lived in Texas for about 18 years now and have only seen snow here three times. This is the first time that it's snowed all day long but it's not sticking on the ground in our area. There are parts of the Houston area where they're getting a couple inches or more of snow on the ground today. It looks pretty with the snow lightly falling right now but they're predicting that it will turn to freezing rain later tonight. Thank goodness that we got back from the hospital today before the roads got messy.
I added an update to the Pumpkin Bake recipe on 11/23/09. I've added vanilla extract to the ingredient list.
11/23/09: Jerry weighed himself the other day and he's down to 170 pounds now from about 210. He's had severe diarrhea for the past week or so which has caused him to lose about 40 pounds of fluid from his legs in about a week's time. He has also been taking a higher dose of diuretics which may account for some of the fluid loss. He feels a lot better with that water weight gone and he's able to move around a lot more. Yesterday he even went for a short walk down the street.
11/21/09: I don't know why I didn't think of doing this before but, after a discussion about organ donations at the Stella Style forum, I thought it would be a good idea to post a link to a site where you can register to be an organ donor in your state and you can also print out donor cards from that site. Here is the link but I will also post it at the top of this page so that it won't end up getting buried as I add more updates.
11/20/09: We got an email this afternoon from someone on the transplant team. They did put Jerry on the transplant list but we haven't heard where they've placed him or how many other people are in line ahead of him. Next Wednesday Jerry goes to see the doctor who runs the transplant team so maybe he'll get more information then. They are also going to send a certified letter officially notifying us of the listing.

We got what might be good news from the company that Jerry works for today. Apparently heads must have rolled because today notice went out company-wide for people to donate sick days to Jerry. We'll have to wait and see what comes of that. This morning Jerry sent in what he thought was his final pay stub to Social Security so that they could start his disability payments. Goodness knows how we'll handle that dilemma if he suddenly has more income coming in from his job and they've already begun to process Jerry's disability.
11/19/09: Jerry said that tomorrow (Friday) is the day that the transplant committee will be meeting to decide where Jerry will be placed on the transplant list. They are supposed to call us in the afternoon to let us know what they've decided. Please pray that they decide to put him near the top of the list.
11/19/09: Last Saturday I had the pleasure of meeting Charles Washington from the Zeroing in on Health forum. He was in San Antonio for the weekend to participate in a half marathon there so he drove to Houston to spend a few hours here with me. I know Charles from back when we were both moderators at Jimmy Moore's forum so it was fun to finally meet each other in person. Here's a photo that Charles took of me sitting where I spend most of my time: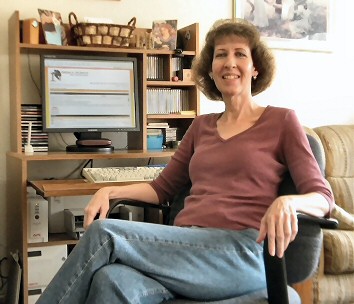 Here's a photo of Charles that was taken in San Antonio: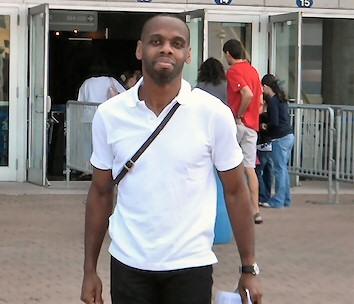 11/18/09: We got a bill from the first day of the transplant evaluation in the mail the other day and just that first day cost $10,000! Just the MRI that they did was $4,200. They also charged $2,400 for the acquisition of Jerry's new liver. I'm not sure why they'd charge that in advance. What if he never gets a liver? I'm guessing that the bills for the other two days of the evaluation will cost about the same as the first day or around that. We shouldn't have to pay any of those bills though because we've already reached our out-of-pocket limit for the year. On the other hand, we haven't actually started paying any of the hospital bills yet. We're waiting to receive all of the Explanations of Benefits from Blue Cross first.

It looks like Jerry is now on unpaid leave and there won't be any donated sick days. The woman in HR for his company, who was supposed to handle getting donated sick days for Jerry, never bothered to do it. Any days that were offered a while back were lost because the FMLA paperwork hadn't been turned in at that time. Now we have to hope that this woman will handle Jerry's insurance payments properly so that he won't lose his insurance. As irresponsible as she seems to be, I don't have high hopes that she'll handle things like she should. I'm feeling very discouraged right now.
I added the blank menu calendars for 2010 on 11/14/09. I also had the pleasure of meeting Charles Washington from Zeroing in on Health today.
11/13/09: During the two days of the transplant evaluation on Wednesday and Thursday, we met with various counselors and Jerry had all sorts of tests done. Here is somewhat of a summary of some of the highlights of the ordeal...

We found out that if Jerry loses his insurance, because we are unable to pay the monthly premium, there will be no transplant. St. Luke's hospital won't take any patients who have no insurance. I don't know how will find the money to keep up the $400 insurance payments every month. If we miss even one, he'll lose his insurance immediately. Between all of Jerry's prescriptions and co-pays for doctor visits, plus the $13 for parking every time we have to go downtown to the hospital for tests and consultations, we're looking at hundreds of dollars every month on top of our rent, utilities, food and other regular bills. And, that's just what it will cost us between now and the transplant. After the transplant we will have to pay hundreds of dollars per month for his prescriptions and there will be even more frequent visits to the doctors for the first few months.

Jerry's MELD score is 22. Most of the people, when they get their transplants, have scores in the range of about 24-26 so Jerry is getting very close to that. There is a checklist of 11 symptoms that qualify someone for a transplant and Jerry has had every symptom on that list.

After the transplant, Jerry will have to take up to 15 different drugs. Three of them he will have to take for the rest of his life. Those are the anti-rejection drugs, of which two of them would cost around $4,000 per month at full price for someone without insurance. He will be weaned off most of the rest of the drugs over the few months after the transplant.

It looks like we may end up having to pay around $1,000-2,000 per month out of pocket for two of his anti-rejection prescriptions after the transplant. That's because Blue Cross won't cover non-generic versions if a generic is available so we'll have to pay the difference between the generic and real versions. The counselor told us that they just recently came out with the generic versions and the transplant doctors won't allow the generics because there have been reported problems with them. They told us that he might be able to get free or cheap drugs through the Veteran's Administration or get some kind of coupons for a discount and Jerry will look into that.

Something very scary that they told us is that Jerry will become diabetic after the transplant and will have to inject insulin. At least they did say that this might only last a month or two with Jerry because he's not already diabetic.

During the transplant evaluation we had a consultation with a dietitian. Just as I was expecting, she was totally ignorant about metabolism or nutrition. Of course she thought she knew what she was talking about but she was totally off-base on some of the most basic things including how sugar and fat are metabolized. She didn't even know that starch is the same thing as sugar. Once I realized how little she understood about nutrition I lost all respect for her. I told her that I disagreed with her about several things but that I wasn't going to argue with her about it. There was no point because she thought she knew what she was talking about.

One really crazy thing that she believes is that eating pure sugar is fine and good for Jerry. She even recommended that he eat M&Ms, or other candy, and sugary soda to help him gain weight. She thinks that all the components of food (sugar, fat and protein) need to be converted to sugar before the body can use them for fuel. Of course she's totally wrong. In reality, sugar needs to be converted to fatty acids before the body can use it for fuel. Since Jerry's body can't store fat, eating more sugar won't help him one bit to gain weight. She actually said that there's no reason for him to drink diet soda and that he should drink the full sugar kind. She must be insane. How in the heck does she think that eating foods totally devoid of any nutritional value would in any way help Jerry and not make him even sicker? She thinks that as long as Jerry fills up on "calories" he'll be able to put on some weight. Since when are "calories" a source of nutrition? They're nothing but numbers, not a type of food.

Something that I noticed that was very strange the two days while we were at the hospital for the transplant evaluation was that I was pretty much the only thin person there, including patients and medical staff. I truly felt like a freak. And, all of the food that I saw for sale at the cafe in the lobby was junk food too (pastries, candy, soda, etc.). Is it any wonder that there are so many sick people??? It was very depressing to realize that I'm apparently one of a very small minority of healthy thin people left in the Houston area.

We still haven't heard yet if anyone has donated any sick pay to Jerry. The person who is supposed to let us know this hasn't gotten back to us yet. Jerry's own sick pay and vacation pay were used up as of the end of last week. So, he may be on unpaid leave at this point until the end of the year when his job will be terminated. Until his Disability payments start, we may have no income at all for what could be several months before those payments start coming in. At least they did tell us that the payments will be retroactive back to the date of Jerry's last paycheck from his job.
11/12/09: Sorry for not posting an update in a while. We just went through a two-day transplant evaluation ordeal and I need some time to sort it all out in my head before I can put into words what's been going on. Thank goodness we've got at least a week before any more doctor's appointments. We really need a break.
Added on 11/8/09: Green Chile Scrambled Eggs
11/7/09: Yesterday was Jerry's first day of the transplant evaluation. Our son drove him there and it was a day of tests such as X-rays and MRIs. Next Wednesday and Thursday he'll have two full days of various tests and meetings with doctors and counselors.
11/4/09: On Monday Jerry went to have more varices banded. This time the doctor only banded one so it looks like they're pretty much taken care of for now. He wants Jerry to see him once more at the beginning of December to check them and see if there are more that need banding. He still has no idea where the bleeding came from the last time so there's always the possibility of a bleed like that again even though the varices bleeding has been taken care of.

Today I took Jerry to see his GI doctor for a consultation. He hadn't seen him since his original diagnosis back in early September. He is upping the dosage on both of the diuretics that Jerry's taking which hopefully will help reduce the fluid somewhat. Jerry weighed in at 216 pounds today. Probably 10 of that were his clothes but he's still carrying almost 50 pounds of fluid now. He doesn't have even an ounce of fat left on his body and very little muscle so all but about 168 pounds is excess fluid.

The doctor also commented on how quickly Jerry's condition has deteriorated since he last saw him. At that time he estimated that Jerry might have 2-3 years to live but today he gave him no more than about 6 months. On the other hand, he went on to say that Jerry's bilirubin level is stable even though he does still have jaundice. He also said that his MELD score is still on the low side at about 18 out of 50. That's because Jerry's kidneys haven't begun to fail. So, although he's only got six months to live, it sounds like he may still be too "healthy" to get near the top of the transplant list unless they have some other criteria for determining the position on the list other than the MELD score. I guess we'll find that out next week at the transplant evaluation. One bit of good news is that our son did get that job that he wanted and they've offered him quite a bit more than he's making at his old job which ends in about a week or so.
Added on 11/4/09: Bacon-Wrapped Hot Dogs
10/31/09: I don't have anything new to report on Jerry's condition. He's been stable since he got out of the hospital. No better but at least no worse either. He did have his phone interview with Social Security to get on Disability but we haven't heard yet if he'll be approved or when he might start getting his benefits. According to the Social Security site, his condition qualifies him for immediate Disability benefits so he shouldn't have to wait the usual 5-6 months for them to start but the agent's letter that we got said that we'd hear back from her within 60 days. We can't afford to wait that long. Jerry's sick pay stops after next week but he may get a few donated sick days from other employees. We don't know yet how many he'll get. Once those are used up he will be on unpaid leave and will have to pay for his insurance out of pocket. At that point we will be living off of our savings until Jerry's disability checks start coming.

One thing that we did yesterday was have AT&T's DSL installed so that we can save some money on our internet connection. We've been using Charter for TV and internet but it was costing us about $82 per month. Just the internet was $49 per month and it would cost $59 per month if we dropped the cable TV connection. With AT&T we won't have to have cable TV and the 6 mbps DSL connection is only $35 per month. We've heard that DSL is very reliable, unlike Charter's cable internet which was constantly going out. We've used Charter for many years but we were fed up with the internet dying all the time.

Also, the liver transplant evaluation meetings have been set up for the week after next. We'll have to go there for two or three days in a row from 8am until 5pm each day. We have no idea yet what we'll be doing there all that time.

The other thing that's happened in the past few days is that our grown son moved back home. He just lost his job and can't afford his apartment any longer. So, he will be paying us room and board which will help us pay our bills. He did have a promising job interview yesterday and he's pretty sure that he'll get the job. Now that Jerry is no longer able to work or do chores around the house, our son will be here to help with things like mowing the lawn and driving Jerry to doctor's appointments.
10/26/09: I don't really have anything new to report on Jerry's condition now that he's home from the hospital. He spends much of the day sleeping because he has trouble sleeping at night due to terrible coughing spells. He thinks that the coughing is caused by the diuretics drying up his saliva which then makes his throat very dry. Too bad that they don't help his edema much anymore but maybe it would be that much worse if he wasn't taking them. Someone from Social Security did finally call today for a phone interview with Jerry. She had to cut it short though and will call him back later today to finish it. They sure do ask a lot of questions.
10/23/09: Just a quick note to say that Jerry is finally home from the hospital as of this evening. Hopefully this will be the last time until he gets a new liver. Unfortunately, the Social Security agent never did call today so that saga continues.
10/23/09: They still don't know where Jerry's bleeding was coming from but at least it did stop eventually. They don't think that it came from his stomach and they know it wasn't from his colon. They can only speculate that it came from somewhere in his intestines. Yesterday he was moved out of ICU into a regular room. Hopefully that's a good sign that he'll be able to come home soon. I never did hear from the local Social Security agent so I will have to call them again today. In case anyone is interested, the technical name for Jerry's liver condition is Primary Sclerosing Cholangitis.
10/21/09: They were just about to do a colonoscopy on Jerry when I left the hospital this afternoon. I had to get back here because I'm expecting a phone call from a rep from the Social Security office sometime between 2:00 and 4:00 today about getting Jerry on disability soon. I called the main SS number this morning and set everything in motion to get Jerry on disability as soon as his paid leave runs out. I called just to ask some questions but the woman I spoke to thought it would be a good idea to get the process started so it would be all set when the time comes. The person who will call this afternoon will set up a phone interview with Jerry in the next few days. The phone interview will save us the trouble of going to the local SS office for the interview where the wait to see someone could be hours. They know that Jerry is in the hospital and can do the interview on the phone with him there if necessary.

Jerry's doctor said that although he tied off three more varices last night, they were not the cause of the bleeding. The bleeding is coming from somewhere else which is why they're doing a colonoscopy to see if it's coming from his colon. They did give him two units of blood last night so there was definitely enough bleeding to cause his blood count to drop. It looks like Jerry will probably be there for at least a couple more days.
10/20/09: Jerry is back in the hospital. This afternoon he said that he didn't feel right and said his stools were black this morning. He suspected that the varices were bleeding again so he called the doctor who said to take him to the emergency room. I drove him there and they did a few tests and determined that his blood count was very low and the doctor said that he is definitely bleeding again. At least this time we caught it before he began to vomit blood. Jerry was coherent this time but he fell asleep every few minutes in the ER because of his blood count being so low. They were planning to give him two or three units of blood tonight and the doctor was waiting for his team to arrive to do another EGD (banding of the varices) sometime after I left or maybe in the morning. Jerry was still in the ER when I left around 7:00 pm because they had no available rooms in ICU but I assume that he'll be in ICU by tomorrow morning.
10/19/09: As of today, it looks like Jerry is out of work at least through the end of the year and probably until he gets his transplant since he's not likely to get better between now and then. Jerry went to his store this afternoon to drop off the sick leave paperwork and he passed out on the floor. It took us a while to get him into the car to drive home. His boss contacted the company's HR department and they're going to put out a bulletin to all of their stores for people to donate their sick days to Jerry. He's only got a couple of sick days left for this year and his boss would rather he use sick days than his vacation days to save them as a last resort. The transplant surgeon that he saw this morning said that they will expedite getting him on the transplant list because his condition is very bad. Someone from the transplant committee is supposed to call us within the next two weeks to set up a meeting. I'm not even sure if Jerry can wait that long for a liver but what can we do??? At least it looks like there's hope that Jerry will be placed near the top of the transplant list.
10/17/09: Jerry went to the doctor yesterday to get a release for him to go back to work next Tuesday but the doctor said that he doesn't want him to go back to work until after the next varices banding procedure on the 26th. While he was talking with the doctor, he asked him if there was anything that he could do to help make himself better faster so that he could get back to work other than walking as much as he can. The only advice that the doctor gave him was to eat a good diet so Jerry is going to give low carb a try.

Right now, one of Jerry's biggest problems is all the fluid that's building up in his legs, feet and belly. The diuretics that he's on don't seem to be doing any good and he's getting bigger and bigger. He's carrying around at least 20 pounds of excess fluid and probably at least half of that is in his belly. His feet swell up so bad that he can hardly get them into his shoes. His belly is even bigger now than it was before they drained off all that fluid the other day.
Added on 10/16/09: Crock Pot Pork Chile Verde
10/15/09: I brought Jerry home from the hospital late last night. He would have gone home earlier in the day but his blood pressure was much too low so they had to try to get it higher before they'd release him. He's got five days to recuperate before going back to work next Tuesday and next Monday is the day that he goes for his transplant evaluation. Thank you again for all of your prayers and generous donations during this ordeal.
10/13/09 (later): Jerry didn't come home today after all but the doctor said he should be able to go home tomorrow, probably sometime in the morning. When I arrived at the hospital this morning, Jerry was in the bathroom washing up by himself which was a good sign. He said that he'd also walked three laps around the hallway (with a walker) before I got there and yesterday he was pooped after just one lap. Yesterday they removed 6 liters of fluid from his belly. Jerry said that he feels a LOT better now that all that fluid isn't pressing on his stomach.
10/13/09: They finally took Jerry for a walk yesterday morning before I got there. He said that it felt great to get out of bed but it really tired him out. When I arrived he was sitting in the recliner which was a good sign that he's doing better. Later after I left they were going to do a procedure to drain the fluid from his belly. The doctor said that he'll probably be able to come home today. I will post back later to let you know if he does.
10/12/09: The doctors want to keep my husband in the hospital for a couple more days for observation so I'm still not sure when he will come home. Yesterday when I mentioned to him that thousands of people on the internet were praying for him and many were sending in donations, he cried like a baby. He did have one concern which I'd like to clarify to ease his mind. Although he does have cirrhosis of the liver, his was NOT caused by drinking. He's had ulcerative colitis for many years and this liver condition is a rare complication of that disease. His colitis has pretty much been in remission for a couple of years and he was doing well until this hit him like a ton of bricks a few months ago. Until then he was very active and enjoyed taking 40 mile bicycle rides and even rode in the MS-150 bike ride from Houston to Austin a few times in the past few years to raise money for Multiple Sclerosis.

I spoke to my husband's boss and we've arranged for Jerry to have this week off to recuperate at home and he won't go back to work until after his transplant evaluation meeting on the 19th. We are hoping that Jerry will be able to continue working enough hours to be able to keep his insurance while he's waiting for his transplant. He will need lots of prayers for the strength to be able do his job which requires spending many hours on his feet. Again, I want to thank all of you for all of your prayers and donations.
10/11/09: My husband was doing a bit better on Saturday and they had an occupational therapist in to check him out. She determined that he won't need occupational therapy but they would have a physical therapist would come in to help get him up and walking again. Still no word on when they'll let him go home. Maybe I'll find out today. Thanks again everyone for all of your prayers and generous donations. In about a week my husband will go for his liver transplant evaluation to see where he will be placed on the transplant list. The doctors said that this bleeding episode will definitely place him much higher on the list.
10/9/09: Update on my husband: Later today they're moving him from ICU to a room on the telemetry floor where he won't be hooked up to quite so many wires and tubes. He's still very weak but he was scheduled to have physical therapy sometime today or tomorrow. We still don't know when he'll go home yet.
10/9/09: Update on my husband: The doctors have controlled the bleeding and his condition is now stable. He should be able to come home in the next couple of days or so. Thanks again everyone for your prayers and support.
10/8/09: Update on my husband: Last night I had to call for an ambulance to take my him to the hospital because he was vomiting blood due to his liver condition. He's currently in intensive care.
10/6/09: To Cheryl, and anyone else who has donated to my site in the past few days and has not received a thank-you email from me, I tried to send you an email but it bounced back. If you did not receive a thank-you from me, thanks very much for your generous donation.
9/30/09: Thank you everyone for your prayers and well-wishes. Just since yesterday I've gotten so many thoughtful emails from people who visit this site. It means so much to me to have so many caring friends from around the world who would take the time to pray for people they've never even met. God bless every one of you.
I made a correction to the Lower Fat 3 Minute Cake recipe on 9/30/09. I forgot to say to cover the measuring cup before microwaving the cake.
Added on 9/29/09: Italian Meatball Burgers and Ribboned Vegetables. I apologize for not posting many new recipes lately. My husband recently found out that he's going to need a liver transplant so we're facing huge medical bills in the next year or two. I've had to drastically cut back on my grocery budget which doesn't leave much money for cooking experiments. I do have some recipes that I'd like to try in the next few months but I won't be able to try nearly as many as I'd like. You can be sure though that any recipes that I do post will be very economical to make and hopefully delicious. I would appreciate your prayers during this very scary situation we're dealing with.
Added on 9/28/09: Lower Fat 3 Minute Cake
Added on 9/4/09: Flax Pancake
I added an update to the UnPotato Salad recipe on 9/4/09.
Added on 8/27/09: Artichoke Chicken
Added on 8/17/09: Low Carb Toaster Waffles
I added a microwave option to the Handmade Marshmallows recipe on 8/3/09.
I posted an improved version of the Handmade Marshmallows recipe on 8/2/09. It's at the bottom of the page.
I added a couple of new gadgets to my Kitchen Gadgets page (see the bottom of page 2) on 7/22/09.
Added on 7/17/09: Thai Peanut Turkey Curry Skillet
I added an update to my White Castle Hamburger Pie on 6/27/09.
Added on 6/27/09: Cheesy Spinach with Caramelized Onions
I added another update to the Florentine Chicken Alfredo on 6/26/09.
I added an update to the Florentine Chicken Alfredo on 6/26/09.
Added on 6/25/09: Florentine Chicken Alfredo
I added an update to the Faux Atkins Peanut Butter Bars recipe on 6/5/09.
Added on 6/4/09: Hamburger Cabbage Stir-Fry
Added on 6/3/09: Chicken Pizza
Added on 6/2/09: Faux Atkins Peanut Butter Bars
Added on 5/28/09: Italian Stuffed Chicken. This one's a winner!
Added on 5/25/09: Pan-Fried Tilapia
Added on 5/22/09: Big Mac in a Bowl
5/16/09: Someone named Zoe from the UK sent me a donation the other day. I tried to send her an email to thank her but it keeps bouncing back. If you read this, Zoe, I want to thank you very much for your donation.
Added on 5/6/09: Broiled Zucchini
Added on 4/24/09: Ranch Baked Tilapia
4/21/09: I added a link in my low carb products section to the Splenda Liquid (EZ-Sweetz) that's now available at Netrition.
Added on 3/21/09: Radish "Red Skin Potatoes
I added a photo to the Quick Sweet & Spicy Stir-Fry Sauce recipe on 2/8/09
Check out this guy's amazing low carb story. I just added his site to my Links page on 2/8/09.
Added on 2/7/09: Quick Sweet & Spicy Stir-Fry Sauce
I corrected an error in the nutritional counts for the Bacon Cheeseburger Quiche on 2/4/09.
Added on 1/30/09: Tuna "Casserole" Quiche
Added on 1/24/09: Soup-in-an-Instant
I added an update to the Browned Butter recipe on 1/23/09.
Added on 1/17/09: BBQ Bacon Turkey Burgers
Added on 1/10/09: Cappuccino Egg Cream
I added MasterCook recipe software to my Gadgets page on 1/4/09.
Added on 12/22/08: Stuffing Pie
Added on 12/13/08: Parmesan Deviled Chicken
Added on 12/12/08: Cheese Filled Bacon Roll
Added on 11/16/08: Individual Pizza Crusts
Added on 11/12/08: Red Enchilada Skillet Dinner
Added on 11/11/08: Fluffy Biscuits
Added on 11/9/08: Orange Sour Cream Cakes
Added on 10/25/08: Baked Pecan Chicken and It's-a-Snap Cheesecake. I also added an update to my Creamy Squash Casserole recipe.
Added on 10/22/08: Barbecued Green Beans
I added yet another update to the NuWave Oven Creamy Eggs recipe on 10/15/08.
Added on 10/12/08: Chicken with Peanut Curry Sauce
I corrected a typo in the NuWave Oven Creamy Eggs recipe on 10/12/08. I've been using 1 ounce of cheese and not the 1/2 ounce that was originally given. I also updated the counts to show the extra cheese.
10/6/08: I uploaded a PDF file containing the calendar for 2009 for you to print out for planning your menus. Rather than post each month separately, I uploaded one file containing the entire year.
Added on 10/5/08: Mushroom Jack Fajitas
I added another update to the NuWave Oven Creamy Eggs recipe on 10/1/08.
I added an update to the NuWave Oven Creamy Eggs recipe on 9/28/08.
Added on 9/26/08: NuWave Oven Creamy Eggs. I also added two new appliances to my Gadgets page - a toaster oven and a NuWave oven.
9/16/08: Well, I survived Ike! We were some of the very lucky ones. We had no damage to our house or property. We had water and were only without electricity for about two days. We did have to throw out a lot of food in the fridge but everything in my big freezer in the garage was fine. That's where I keep all my meat. The internet was out until late this afternoon. It's great to be back online!
Added on 9/11/08: Mexican Spinach Lasagna
I tweaked the instructions and added an update to my Creamy Alfredo Sauce with Roasted Peppers recipe on 9/10/08.
I added an update to the Chicken Parm a la Amy recipe on 9/7/08.
8/28/08: I forgot to mention that Jimmy Moore has moved his blog again to Livin' La Vida Low Carb Blog
I added another update to the Broiled Tilapia Parmesan recipe on 8/23/08.
Added on 8/16/08: Minute Orange Cake and Quick Peanut Butter Muffin
8/16/08: Check out Janet's inspirational weight loss success story here.
Added on 8/7/08: Loosemeat
8/4/08: I've updated the link to Jimmy Moore's blog. He moved it over the weekend to Livin' La Vida Low Carb Blog
I added an update to the 3 Minute Vanilla Cake recipe on 8/2/08.
Added on 8/1/08: Sausage Pumpkin Chili
I added an update to the Mock Corn Bread recipe on 8/1/08.
Added on 7/31/08: 3 Minute Vanilla Cake
Added on 7/26/08: Roasted Red Pepper & Tomato Soup
Added on 7/20/08: Chili Dog Mustard and Prairie Dust
Added on 7/18/08: Thai-Style Beef Curry Skillet Dinner
Added on 6/28/08: Jimmy Moore's Perfect Key-Lime Cheesecake
I added a tip about fresh limes to my Time Saving Tips page on 6/28/08.
Added on 6/27/08: Skillet Chicken Florentine
I added a variation to the Cocoa Coated Walnuts recipe on 6/26/08.
Added on 6/24/08: Asian Pork & Cabbage Skillet Dinner
6/11/08: A lot of my recipes call for "slivering" an onion. I was asked today what I meant by that so I tracked down a video that shows what I mean. As you'll see, the woman in the video says that there are two ways to slice an onion and what I call "slivering" is the method that she demonstrates. Click here to watch the video.
Added on 6/8/08: Spiced Minced Beef (Keema) and Fried Zucchini Strings
6/5/08: I added an update to my Browned Butter recipe. If you have any suggestions as to why I had a problem, please send me an email. (P.S. - I added another little update later today)
Added on 6/2/08: Green Enchilada Turkey Skillet Dinner
6/2/08: If you tried to visit my site on Saturday or Sunday, and couldn't access it, that's because my host company had a fire in their building and they had to shut down all of their servers for about a day and a half. Everything seems to be working fine now.
Added on 6/1/08: Coconut Cookies
Added on 5/30/08: Peppermint Drops
Added on 5/26/08: Coconut Crunch


5/18/08: You're probably wondering what my newest advertiser, Netflix, has to do with low carb. Nothing really. It's just that I starting using Netflix about a month or so ago and love it. I have the $8.99 per month plan which entitles me to one DVD movie in the mail at a time and I can watch as many online movies as I like while I'm waiting for my next DVD to arrive in the mail. Having my DVD movies delivered every Wednesday and Saturday works out great for me. I send the Wednesday movie back on Thursday and the next one arrives on Saturday. I can keep that one for the whole weekend then send it back on Monday. Of course I could keep the movie as long as I like but I've worked it out so that I can get the most movies per month possible by sending them back right away the next day. So far I haven't had a DVD arrive late.

The selection of online movies to watch is somewhat limited but I've already watched quite a few that I thoroughly enjoyed and I've got a list of over 100 more that I'd like to watch when I have the time. Of course you'll need a fast internet connection and a large monitor to view movies online. I do, so for me it's no different than watching a movie on my TV. Plus, I get to hear the movies in stereo using my good computer speakers. Our old TV doesn't look or sound nearly as good as my computer. Anyway, I highly recommened Netflix. It will save you the gas you'd use running back and forth to the video store and the cost per movie is a lot cheaper anyway. Once you sign up, you can read descriptions of every movie that's available and some even have online previews. It sure beats standing at the video store staring at row after row of DVDs trying to decide what to rent. Plus, you can rent movies (also old TV shows, documentaries, concerts, etc.) that are no longer available at the rental places. If you'd like to give Netflix a try, they have a free two-week trial period and you can cancel at any time.
I added an update to the Broccoli Salad with Ham recipe on 5/17/08.
Added on 5/16/08: Roasted Red Pepper Egg Salad
Added on 5/8/08: Cocoa Coated Walnuts
5/8/08: I forgot to mention that Jimmy Moore's new Low Carb Discussion Forum is up and running as of the end of April. I also added a photo to the Fried String Cheese recipe.
Added on 5/7/08: Baked String Beans
I added a review of Emerald Cocoa Roast Almonds to my Low Carb Products page on 5/6/08.
Added on 4/28/08: California Chicken Casserole
Added on 4/23/08: Pastrami-Dill Bites
Added on 4/17/08: Southwestern Chili con Carne
I added an update to the Cheddar Biscuits recipe on 4/17/08. I added even more cheese this time.
I added an update to the 3-Minute Flourless Chocolate Cake recipe on 4/15/08. I ran into a problem that someone else had mentioned and figured out a way to solve it. Scroll down to cake recipe #2 to find the update.
Added on 4/15/08: Thin and Crispy Pizza Crust
4/10/08: I added a Google search feature to my recipe page. It seems to work quite well but it's not perfect. If you use it to search for a particular recipe or ingredient, don't assume that all recipes of that type will come up.
Added on 4/9/08: Cheesy Hash Brown Patties
4/9/08: IMPORTANT NOTICE: If you're wondering what has happened to Jimmy Moore's Low Carb Discussion forums, they were damaged by a hacker the other day. Jimmy is working hard to fix the problem as quickly as possible. If you received an email that looks like it's from Jimmy, and has this as the Subject line "LowCarbDiscussion.com Is Back", don't click the link in the email. It was sent by the hacker. In fact, I just read on Jimmy's blog that if you click the link in that email, you'll get a virus. Jimmy will let us know via his blog when his new forum is up and running.
4/4/08: I added some Tupperware products to my Gadgets pages. Scroll down to the bottom of this page to see my review.
4/4/08: I've started a new updates page because the old one was getting rather long. To read the previous updates page, click the link below for archive #5.
4/4/08: I get a lot of requests for a search feature on my site so that you can search for recipes containing a particular ingredient and that sort of thing. Well, I've learned that you can use Google to do the job. Here is what you do:

1. Enter this into Google: site:genaw.com/lowcarb "search for these words"
2. Replace "search for these words" with your phrase (type the name of an ingredient, etc.), no quotes needed, that you want to search for on my site.